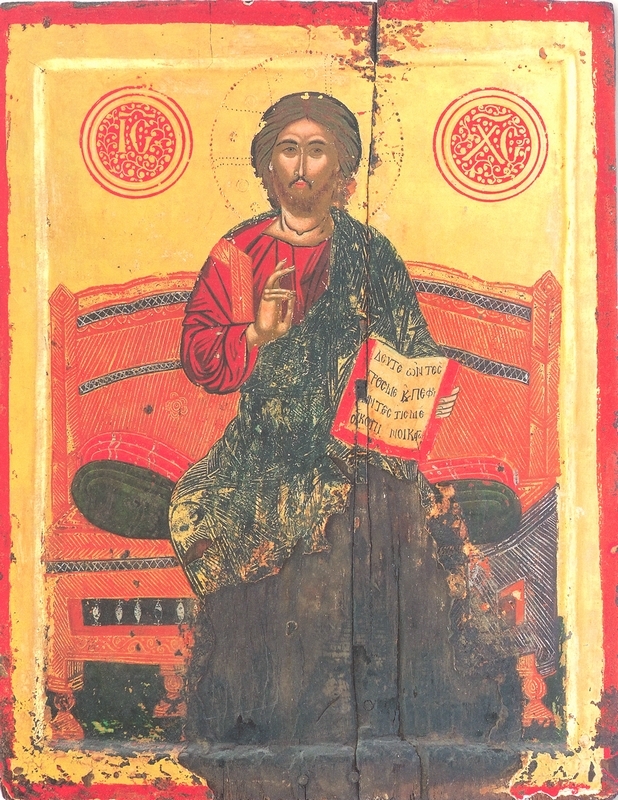 Christ 'Pantokrator' enthroned

Item ID : 72
Collection Name : Holy Metropolis of Limnos and Ag. Eustratios
Type : Icon
Year : 17th century
Place : Limnos
Dimension : 52x40.5x3,6
Conditions : not good
Current Place : Saint George church – Atsiki
Description : Christ is depicted full length and in a frontal position against gold background. He is sitting on a wooden throne, with rich carvings on the double curvature backrest. He is facing directly the viewer sitting on two cushions, a red one and a green one. The figure of the Christ is painted on a wooden board hollowed out forming a raised border all around.
He is clad in a red-wine color tunic and a dark green cloak rich in golden striations.
His right hand is raised before his chest in a blessing gesture, while with his left he holds an open gospel poised on his left leg. The letter inscription reads: "COME UNTO ME ALL THAT ARE WEARY AND HAEVY-LADEN AND I WILL GIVE YOU REST.TAKE MY YOKE UPON YOU." (Math.11:28).
Above his shoulders two medallions decorated with spiral foliates exists, containing the letters IC-XC respectively
The punched halo, the rosettes that decorates the halo, the intense shading of the figure and the simplistic rendering of the throne, conforms to the stylistic tendencies of the Macedonian school and can be dated around the 17th century.