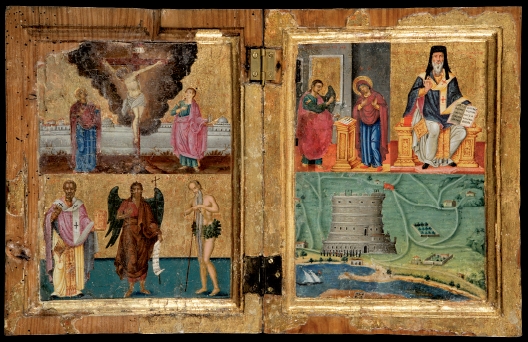 Diptych Icon- right side; Crucifixion- Saint Nicholas, Jean Baptist Saint Οnuphrious, left side: Annunciation of Theotokos, Saint Denys of Strofades

Item ID : 58
Collection Name : Holy Metropolis of Zakinthos and Strofadon
Type : Icon
Year : Late 18nth century
Τechnique : Egg tempera
Materials : wood
Dimension : 27 x 423 2.5cm
Description : Right hand side: The Crucifixion, Saints John the Baptist and Saint Onufrios
Left hand side: The Annunciation of Mary, Saint Dionisios and Strofades monastery
The right hand icon is divided into two equally even parts. Two unrelated iconographic themes are combined in this two zoned icon. In the upper zone the Crucifixions is depicted. Amidst dark triangle shaped clouds Christ is depicted on the cross. The convolution of His body directs to His earthly elements conveyed also by the double curve of the crucified body.
The crucified Christ occupies the center of the icon while he is flanked by Virgin Mary on the left. She is tenderly looking towards the crucified Christ while on the right hand side St. John is depicted full length in an expression of restrained grief. In the background stands the wall of Jerusalem.
On the lower zone of the icon, St. Nicolas, St. Onoufrios in a limp posture and St. John the Baptist bearing an open scroll and angel's wings, are depicted.
On the upper right hand panel the Annunciation scene is presented in a very simplistic manner. Virgin Mary is presented on a standing position behind a lectern. The Archangel Gabriel in a conversing gesture is showed on the left. He is offering the Madonna lily to her.
The second halve of the panel is occupied by the emblematic figure of St.Dionisios. He is depicted full length sitting on a wooden curved throne against a gold background.
On the lower zone of the panel the monastery of Stofades is depicted with architectural details prevailing.
In the lavish green background the temples of St.Nikolaos and St. Dimitrios ensemble the landscape.
A group of monks is shown holding open gospel and lighted candles and moving towards At. Nikolaos church.
The scene is completed by the depiction of a beautiful boat reaching the shore.