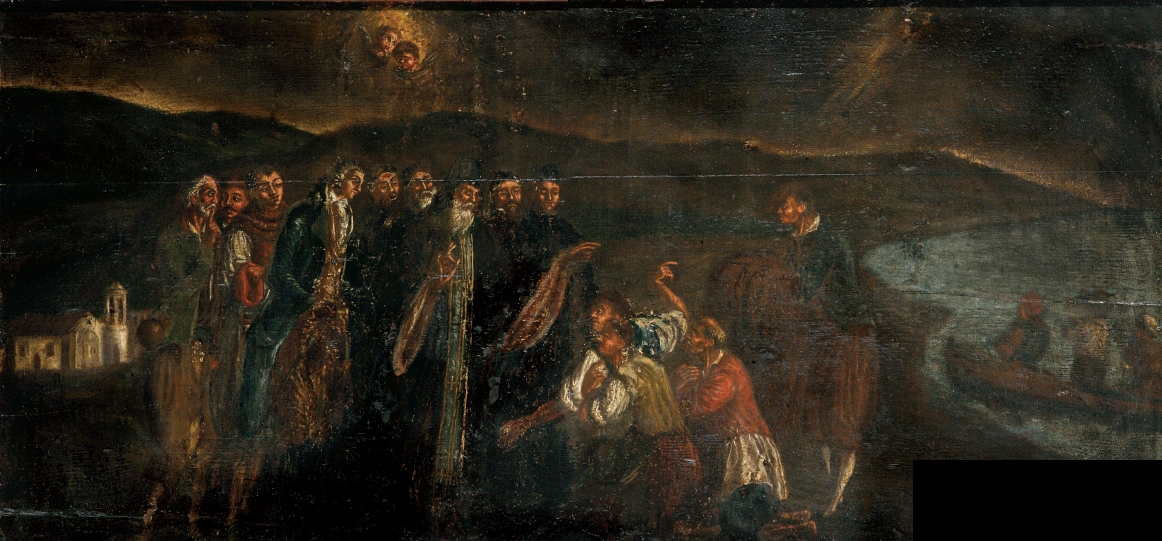 The miracle of the fishermen

Item ID : 57
Collection Name : Holy Metropolis of Zakinthos and Strofadon
Year : Late 18nth century
Τechnique : oil on wood
Materials : wood
Dimension : 72 x 142cm
Description : A well known miracle performed by the devout saint Dionisios is depicted in that icon.
Saint Dionisios is presented full length flanked by several clergy and clerical people. He is depicted blessing with his right hand while his left is pointing towards the sea. Behind him several escorting persons are depicted in gazing or frowned faces. His clad is simple and the calmness of his face indicts to the overall sacredness of the icon.
Two fishermen are depicted on a kneeling position in front of the saint, a third one is shown full length preparing his nets. A fourth one is presented sitting on the rocks in front of the saint and with his right hand is pointing at the sea. Three more fishermen are shown in a boat ready to disembark.
On the centre and above the scene two cherubs unfurl amidst the dark misty sky.
The soft dark colors used so as to attribute to the icon a mystical concept. This is exceptionally achieved by the use of the light being spared and brilliantly used.