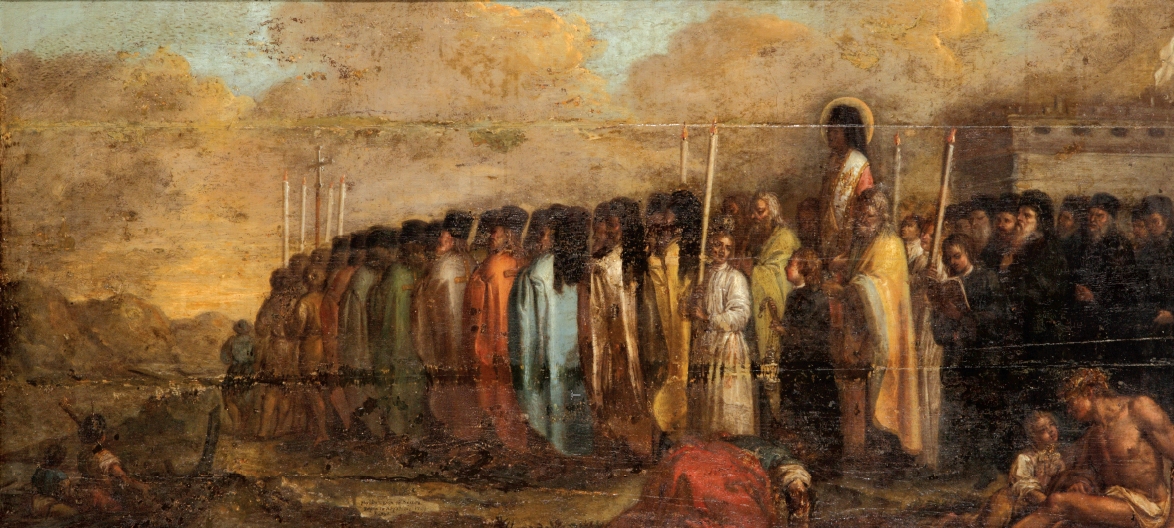 The procession of St Dionisios Litany-The locust miracle

Item ID : 55
Collection Name : Holy Metropolis of Zakinthos and Strofadon
Year : Late 17nth century
Τechnique : Oil on wood
Materials : wood
Dimension : 72 x 142
Description : This work of art belongs to a series of four paintings created by the same artist resembling vita scenes of Saint Dionisios. The pomp imposingly follows the saint's bier. The scene unfolds through a misty and barren landscape. The saint's bier is preceded by children holding lighted candles and the cross. The secular and clerical authority follows. The bier is carried solemnly by two priests. It is depicted wearing hieratical vestments while a gold halo indicating his holiness decorates the head. The pomp is followed by the monks of the devout monastery which's figurative contour is depicted on the upper right hand side of the icon.
On the lower part of the icon several figures are painted in a manner that is adding to the sacredness over the icon.
On the right hand of the panel a swarm of locust is painted – a direct relation of how the locust attacks adds to the many sufferings of the island agriculture life- and to the miracle performed by the Saint so as to extinguish their presence is indicated.
Great stylistic and iconographic similarities with the Venetian arts works are well obvious throughout the whole panel.