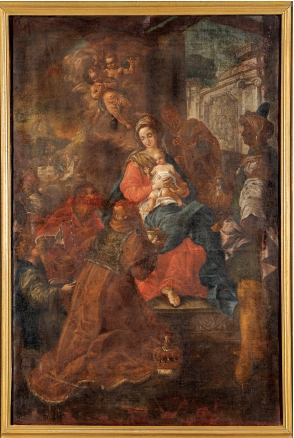 The Adoration of the Magi

Item ID : 51
Collection Name : Holy Metropolis of Zakinthos and Strofadon
Year : 18nth century
Τechnique : oil on canvas
Materials : canvas
Dimension : 121 x 80cm
Description : This poetic painting depicts the arrival of the three Wise Men in Bethlehem and their adoration to the newborn Christ. Centrally located Virgin Mary is presented sitting in an ancient column, which symbolize the finalization of the old order. She is holding the shining newborn Christ with her two arms. Joseph is faintly discerned on the right hand side of the icon gazing thoughtfully the newborn.
The three Wise men, two white and one black, representing the continents and richly dressed are depicted offering their honors and valuable items to His grace.
Following a triangle shape configuration the scene is unfolded harmoniously depicting two flying angels on the upper left side of the panel. Below the previous scene and almost militaristically presented, two men are shown unfurling a white panel while a third one is slowly vanishing from side.
The movement and plasticity of Western painting in combination with the elemental use from the work of Domenikos Theotokopoulos are successfully tied.