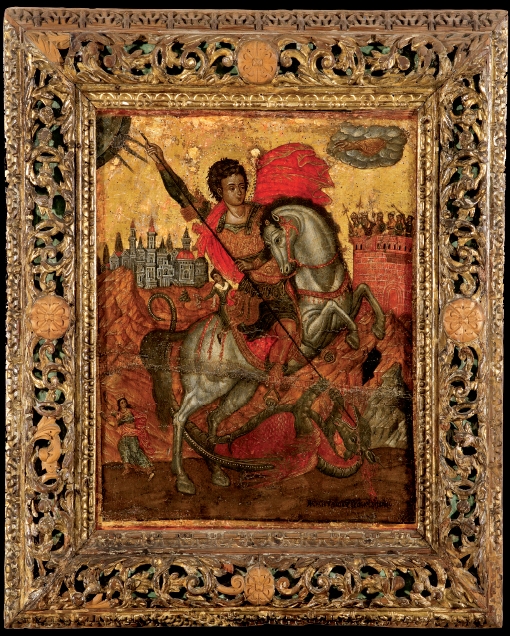 Sanity George on a horseback

Item ID : 46
Collection Name : Holy Metropolis of Zakinthos and Strofadon
Year : Early 17nth century
Τechnique : egg tempera
Materials : wood
Dimension : 59 x 50
Description : The main scene of the icon is the depiction on episode from the life young soldier-saint. George.
Centrally placed St. George is depicted sitting on a horseback. The saint rides a beautifully graced white horse reared up on its hind legs, painted in full scale, bearing elaborated caparisons.
He is wearing military apparel richly detailed while his red cloak is overflying giving to the scene an extra iconic movement. The young saint is realistically portrayed in a frontal position while he is twisting his body so as to perform one of his most popular miracles, the slaying of the dragon.
He is piercing the body of a winged dragon lying before the feet of the horse with a long spear.
In the right lower corner of the icon, the richly dressed princess appears being in trepidation. On the rump of the horse and at a smaller scale sits the young slave rescued from captivity.
On the left side of the scene a schematically rendered town is presented, while on the left side a crowded tower is depicted. The gold background contrasts the barren landscape providing a luminous effect.
In the upper corners of the composition, the hand of God blessing the saint and a quatrefoil resembling the sky are painted respectively from the right to the left.
The stylistic affinity between the western influences can be merely attested in the particular icon.