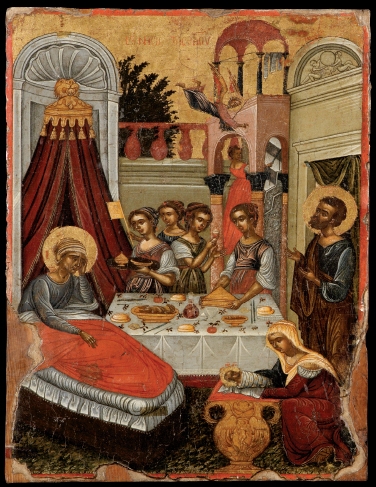 Nativity of Virgin Mary

Item ID : 45
Collection Name : Holy Metropolis of Zakinthos and Strofadon
Year : Late 17nth century
Τechnique : egg tempera
Materials : wood
Dimension : 40. 5 x 29 x 1.8
Description : The scene of the Nativity of Mary, unfolds in a dramatic and narrative manner. On the right side of the panel St. Anne is depicted reclining on a verse sided bed under a crimson veil, attended by several maids
Holy Mary is seen as an infant in the cradle where she is attended by a nurse at the bottom.
On the opposite side, Joachim Her husband, is depicted having his hands in a blessing gesture .He is presented full length and encountered with an Angel.
In the centre of the icon a festive table with beautifully elaborated details is contributing to the narration of the iconic scene.
The elegantly rendered architectural settings on either side, the aesthetics of the faces and their draperies underlines the several western Renaissance clings.
The oldest representation of the subject can be found since the 14nth century while around the 15th century established as a Theological theme.