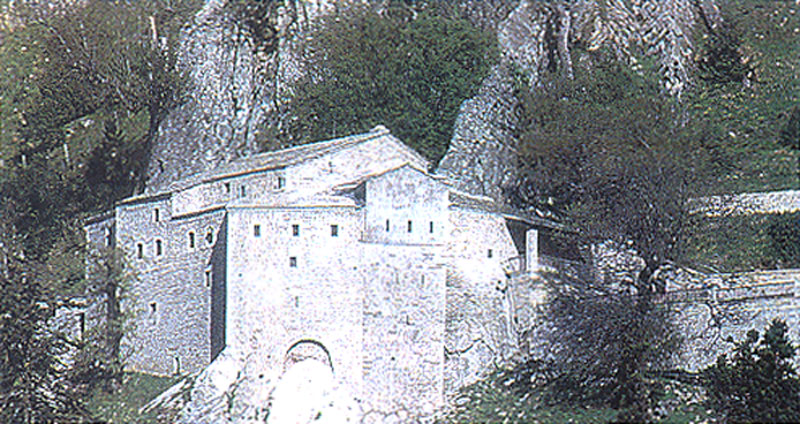 The monastery of Pelekiti

Item ID : 437
Collection Name : Holy Metropolis of Thessaliotidos and Fanariofersalon
Category : Monastery
Year : c. 1666AD
Current Place : Karditsa
Description : In a route 25 km NW of Karditsa, through the road to the lake N.Plastira one km from Sardinia, on a steep rock mountain (Voutsikaki) at an altitude of 1400 meters is the monastery Pelekiti .The church belongs to the Byzantine Ahonite type with spaces on right and left side without columns .
Left of the entrance is a small temple in honouring the the :Ascension of Christ." Is a one-aisle basilica with a narthex . The roof is a circular arch resting on a central arc of the church was constructed in 1654. Passing the austere church of the Ascension , inside the cave we reache the second temple in honor of the Virgin Mary Revealed (Phaneromeni) , which is the main church (katholikon) of the monastery.
The temples of the two church s, are carved and gilded with great artistic value. In particular the temple and the icons of the Ascension church belongs to the Cretan school and attributed to painters John, monk and priest Nicholas James and it was in made 1654.
In the temple of Ascension apart from the circular images of the Twelve Feasts, another series of saints in a bust form are depicted , also within a circular frame.
Above the temple, in the middle, rises the majestic gold-carved wood crucifix with hagiography of the Christ crossed, and "sad," in between two carven dragons. The whole style of the cross has close affiliation to the baroque style.
The temple of the iconostasis is also carved and inlaid with unequalled in beauty, and a second series again over the Twelve Feasts, in arched panels of separating with carven pillars with spiral grooves exists.
The church was painted in 1666 by Iakovos and his son Demetrius.
From the all the icons the more distinctive and rare is the small portable icon representing the " Virgin Mary Eleousa," or " Our Lady of Hewer."
It is painted on wood and framed in silver apron with carved angels toward the edges and in the centre, it is gilded and embellished with semiprecious stones.
The monastery got its name: Pelekiti," because it was build in a rocky cliff. The stone was axed by specialist craftsmen. First founder is the spiritual Porphyrius second new Osiomartyras Damian (1510-1568) and third the monk Pachomius.
During the Ottoman period and was a den for thieves and other hidden protectors of the Greek people, and other monasteries of Agrafon. The hidden door exit, in case, any raid-Turkish-Albanian, still exists.
With the liberation of Greece, while the monastery still belonged to the Turkish occupied area of Thessaly, the monks themselves with the local people brought piles of limits over the monastery, so as to be integrated in the free Greek state.