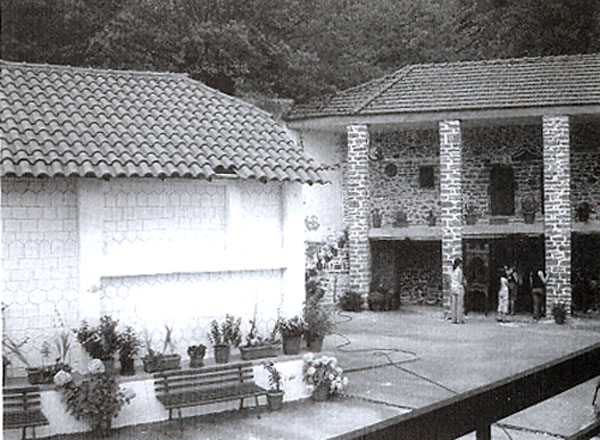 The monastery of Vragianon

Item ID : 436
Collection Name : Holy Metropolis of Thessaliotidos and Fanariofersalon
Category : Monastery
Year : c. 1655AD
Current Place : Vragiano
Description : Founded by the monk Parthenius on July 11, 1655 as written above the entrance of the nave ( ΑΧΝΕ in July ΙΑ ). Within an hour s walk from the main settlement of Vragiana in Argithea towards "Mermitzala" is the monastery of the Transfiguration. It is the oldest monastery in Kaeditsa .
The katholikon of the monastery belongs to the characteristic Athonite architecture.
The church is small, cross-shaped, without a dome. In the middle of the church is hung a carved wood and gilt circle, like a chandelier, on which twelve small wooden images are hanged each representing the icon of prophet in one part and on other part an apostle.
The temple is carved and very valuable. Typical is the fresco above the entrance of the temple depicting the Transfiguration of Christ and is dated from 1797AD, when the nerthex was constructed.. On each side there is a capital F, on each side there is a capital F with a rough decryption means: Friend, Bring, Eat, Leave.
Above the narthex there, is an inscription referring to the founder and donor.
The monastery played an important role in modern Greek history, because in addition to its strategic geographical position and was in a very flourishing economic situation. Many times the fighters of 1821 they found hospitality there.
Several Generals that fight against the Turkish during that period, like Karaiskakis, Katsandonis and the Boukouvalaioi had their supply centre in the monastery. Moreover, the monastery hosted for sixty days 54 Souliotes after leaving the monastery Kosti made their way easier to reach Parga.
Later the monastery was allowed to hospitalize families that were victimized by the Turks and found refuge and peace in the monastery. Unfortunately though on the 18 of December 1862, the monastery was plundered and the monastic brotherhood was massacred by the Turks.