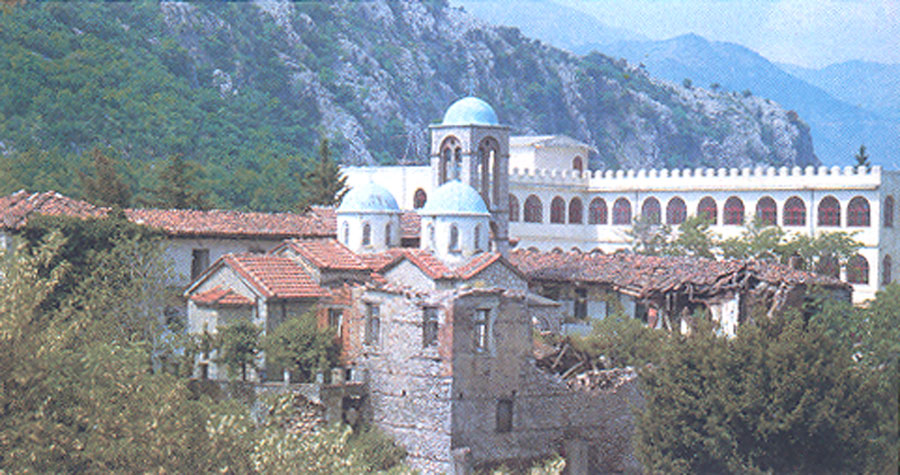 The monastery of the Saint George- Karaiskakis

Item ID : 434
Collection Name : Holy Metropolis of Thessaliotidos and Fanariofersalon
Category : Monastery
Year : c. 16th AD
Current Place : Mouzaki
Description : Five kilometers from the village, Mouzaki in Karditsa near the top of a hill is the monastery of St. George. The monastery was founded according to the reference of the Abbess, around the sixteenth century.
The church is a small one with a niche, and has a vaulted aisle. It is cross-shaped one and has a hemisphere instead of a dome (blind dome). The blind dome, is an externally supported dome by square walls, which protrudes from the rest of the church roof and is by a covered mansard roof. This type of church is called simple athonitikos (from the Mount Athos).
Orlandos in what concerns the structural part of the monastery says: "the originality of the temple is that the eastern and western part of the temple covered arches, internally, resulting in small arcs. Among the vaults a narrow transverse strip is inserted. The temple is carved and gilded. The narthex is made at a later time and has cruciform type, domed and without icons.
Inside the vestibule two small chapels are formed, honouring on the right side, Saint Modestus and on left the prophet Ezekiel.
The belfry is constructed at a later time. The icon of image of St. George represented full-length, standing in military uniform and pedestrian, as illustrated by the middle of the 18th century soldier Saints George and Demetrius.
In the south wall of the nave, next to the picture of St. Panteleimon, in archaic Byzantine letters the chronology: "ΕΤΕΙ ΖΡΞΕ," meaning from the creation of the world 7165BC, and 1657AC.
In the left Sanctuary gate, the arch-angel Gabriel is depicted, and on the right door the Virgin Mary is represented. On the lower part the four prophets are depicted.
At the suggestion of the metropolitan Thessaliotis Ezekiel, the monastery named "Holy Monastery of Agios Georgios Karaiskakis", because the hero of 1821, Marshal Georgios Karaiskakis was born in a cave at that place.