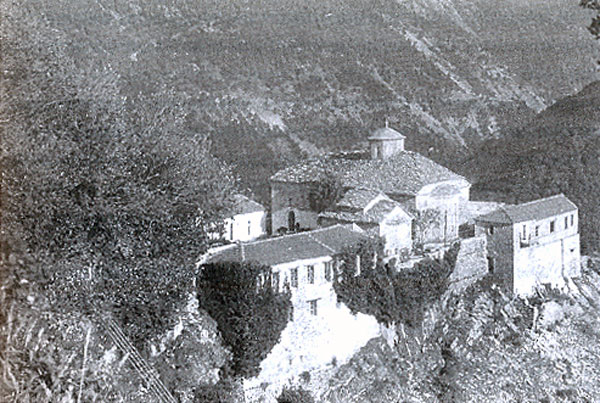 The monastery of the cave

Item ID : 433
Collection Name : Holy Metropolis of Thessaliotidos and Fanariofersalon
Category : Monastery
Year : c. 17th AD
Dimension : 7,50X11 μ.
Current Place : Argithea
Description : The latest church is of the Byzantine style, of Mount Athos , ie three-aisled cruciform with a dome in the centre of the cross resting on four columns , and niches in the southern and northern wall.
The floor of the nave is lower than the floor of the vestibule at about half meter ( three steps ) and is slated .
The narthex was built in 1892 and is the site of the old austere temple . This appears from the fact that the wall separating the nave of the nartherx, has hagiographies also externally.
The splendour though of the nave is the ornate carved and gilded iconostasis.
Although it is newer, (created in 1779), as shown in the inscription belongs to the masterpieces of woodcarving art.
The small church is not a chapel, but it is the oldest church of the "Life Giving Spring," and is dedicated to the Assumption.
It is cross-vaulted and a small dome which is just projecting, while the Almighty (Pantocrator) is dominating the place.
Externally, the blind spherical dome is surrounded by a small wall and creating a building block that protrudes a bit of another roof of the temple which is covered with a mansard roof.
The old temple has not survived, and in place, a small lodge exists.
In both churches the roof is covered with plates (stones). The icons are old and of great artistic value. In general the interior of the church is cover with icons and frescoes of exquisite beauty and value.
The monastery took its name from the caves that are below the monastery on the rock . Tradition says as founders, two brothers Athanasius and Parthenius, who came from the neighbouring village Stefaniada , and were monks at the monastery of Agios Charalambos , which now is ruined .
They built a small temple in the name of the Assumption . The small plaque with the date 1064 has a certain affiliation with that fact.
The present church is attached with the old one, is bigger and of later structure and is named: "The Life Giving Spring" , so the monastery celebrates "Life Giving Spring."
Founders of the modern church is therefore fathers Parthenius , Jonah Gabriel and Ananias , as shown on a display fitted outside, right by the entrance of the temple .
In 1854 the Crimean war aroused in Thessaly also.
At the monastery of the cave were located the headquarters of the Revolutionary Committee because of its natural fortification that had the monastery , as it is built on the " crown " and is around Cliff.
The monastery is located at The Municipality Argithea at an altitude of 750 meters, a rocky and steep top Agrafon mountains of Pindos, and belongs to the community Koumpouriana, where the monastery of the cave lies.