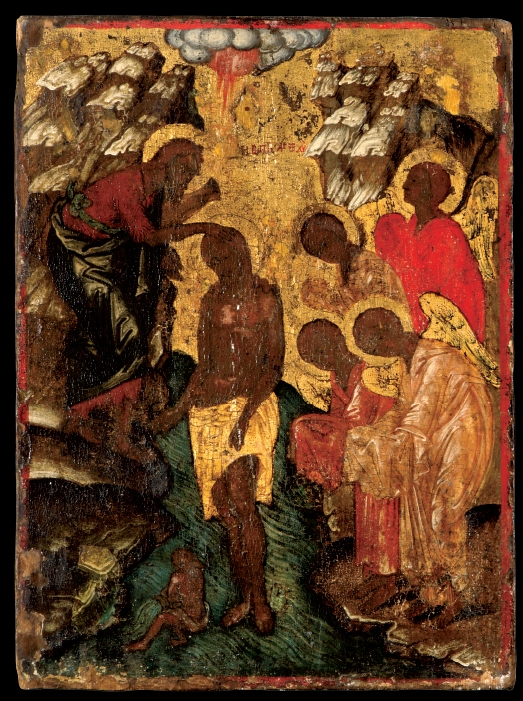 The Baptism of Christ

Item ID : 43
Collection Name : Holy Metropolis of Zakinthos and Strofadon
Year : Late 17nth century
Τechnique : egg tempera
Materials : wood
Dimension : 46 x 33 x 2.5
Description : (Part of the wooden temple of the catholicon of the Holy church of Strofadon). Christ is depicted frontally and full length, wearing just a loincloth and having His head slightly bending towards St. John. Below His right feet a human figure is painted. The motif is borrowed from the antiquity and serves as a personification of the symbols of the waters.
Christ is standing in the middle of the beautifully colored waters of Jordan River. The water of the river flows from the right to the left widening at the bottom attributing a sense of spectrum.
On the right bank of the river St. John the Baptist stands alone in a bowing position, reverently touching Christ head with his right hand. On the opposite site of the bank, four angels are depicted. The two of them are presented on a bowing positing having their hands covered with a cloth. This is in order to show respect to Christ as this is also obtained by their slant-eyes.
The fourth angle has his face towards the sky from witch red rays are issued depicting The Holy Spirit.
The schematically rendered mountain peaks serves a mean of merely an open composition and the figurative convergence composites the strong scheme.
The style and the technique used, directs to the Paleologan School of art while the affiliated characteristics of the Cretan school are employed throughout the icon.