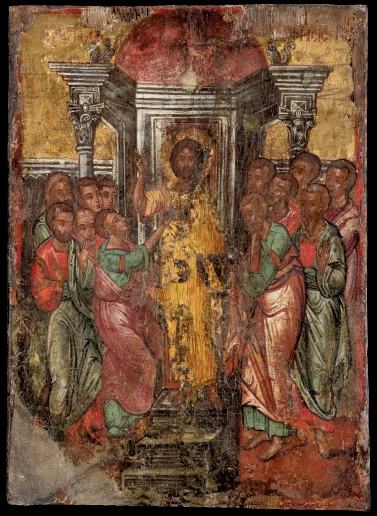 The Assurance of Thomas

Item ID : 42
Collection Name : Holy Metropolis of Zakinthos and Strofadon
Year : Late 17th century
Τechnique : egg tempera
Materials : wood
Dimension : 46 x 32.5 x2
Description : The icon illustrates the scene of the '' believing not doubting''. The figure of Christ is symmetrically arranged centrally around the vertical axis of the icon. He is depicted full front wearing a white himation symbolizing the light of purity. He is standing in front of a schematically rendered building that has strong renaissance influence.
He is blessing with his left hand while with his right He is allowing Thomas to touch his wounds. Thomas wanted the most tangible proof- touching Christ's wounds in His hands and side- before he would believe.
On either side of the central scene several, Disciples of Christ are witnessing the fact. They are depicted stunned but also inspiring a calming feeling to the viewer. On the right side Apostole Peter is depicted in a blessing gesture.
The iconography and style of the scene belongs to the late Cretan school, which flourished after the fall of Crete (Candia) from the Turks.