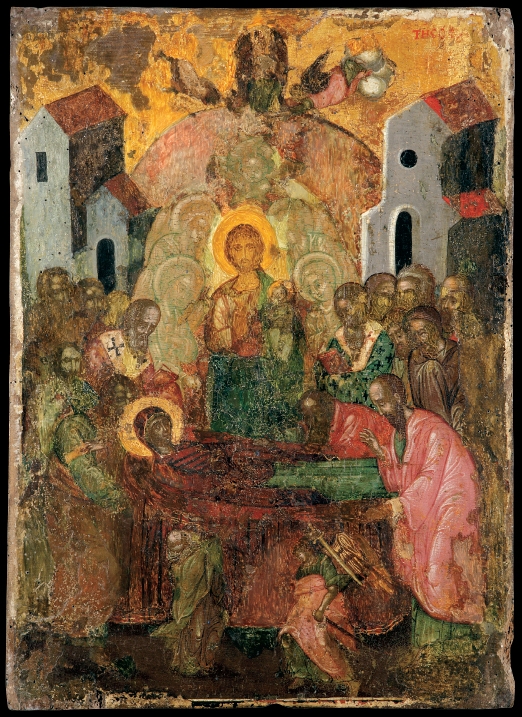 The Dormition of the Virgin

Item ID : 40
Collection Name : Holy Metropolis of Zakinthos and Strofadon
Year : Late 17th century
Τechnique : egg tempera
Materials : wood
Dimension : 46 x 33 x 2.5
Description : In the lower part of the icon, the Dormition of the Virgin is depicted. Theotokos is upon funeral bier. The scene is surrounded by the figures of the 12 Apostoles in attitudes of prayer, reverencing her body, two hierarchs holds the coded scrolls stand out at the two ends of Her. On the lower part of the scene and at a smaller scale, a guardian angel in a dramatic protection pose is depicted. He is ready to attack to the unfaithful person Jephoniah who he tried to overturn Virgins bier.
In the center of the icon Jesus Christ appears in an aureole (elongated halo), taking her spotless soul- symbolized by the infant- in His arms to Heaven. Christ is accompanied by a host of angels.Following a triangular structure, the content of the scene is accomplished depicting The Ascent of the Virgin to heaven and the giving of the Holy Girdle. Unfortunately the particular scene cannot be well viewed due to extended deterioration.