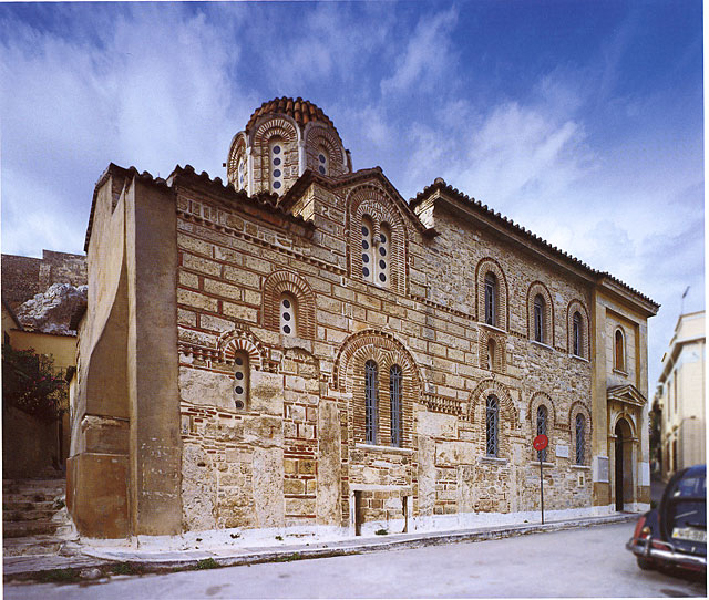 Hagios Nikolaos church -Rangava- (Saint Nikolaos church- Rangava)

Item ID : 4
Collection Name : Holy Archdiocese of Athens
Type : Church
Rhythm : regular tetrastyle cross-in-square type
Place : Plaka - Athens
Conditions : Very good
Current Place : Pritaniou st. - PLAKA
Description : The church was built by the Byzantine aristocratic family of Rangavas , after whom it is named. It is situated north-east of Acropolis and it is considered to be one of the city's most important Byzantine monuments. It is dated to the first half of the eleventh century (11nth), which at that time was built as regular tetrastyle cross-in-square type. Its present form is an amalgamation of reconstructions and additions of three different periods. The masonry up to the middle of the building is made of voluminous boulders and lime stones, as well as inlaid parts of ancient buildings. From the middle and upwards the walls were build with the cloisonne system. The Dome of the church is of an octahedral type, resembling the typical Athenian basilica type of that time. The altar of the church is supported by a marble column capital in reverse. In more recent years, significant additions and alterations took place. In 1838 the church has been extended to the west with the addition of the narthex and the bell tower. In more recent years the chapel of Saint Paraskeni was added on the northern side. Unfortunately nothing was preserved from the old hagiographic ornamentation, and the today's frescoes belong to the period when the Bavarian King Otto (1815-1867) ruled Greece.