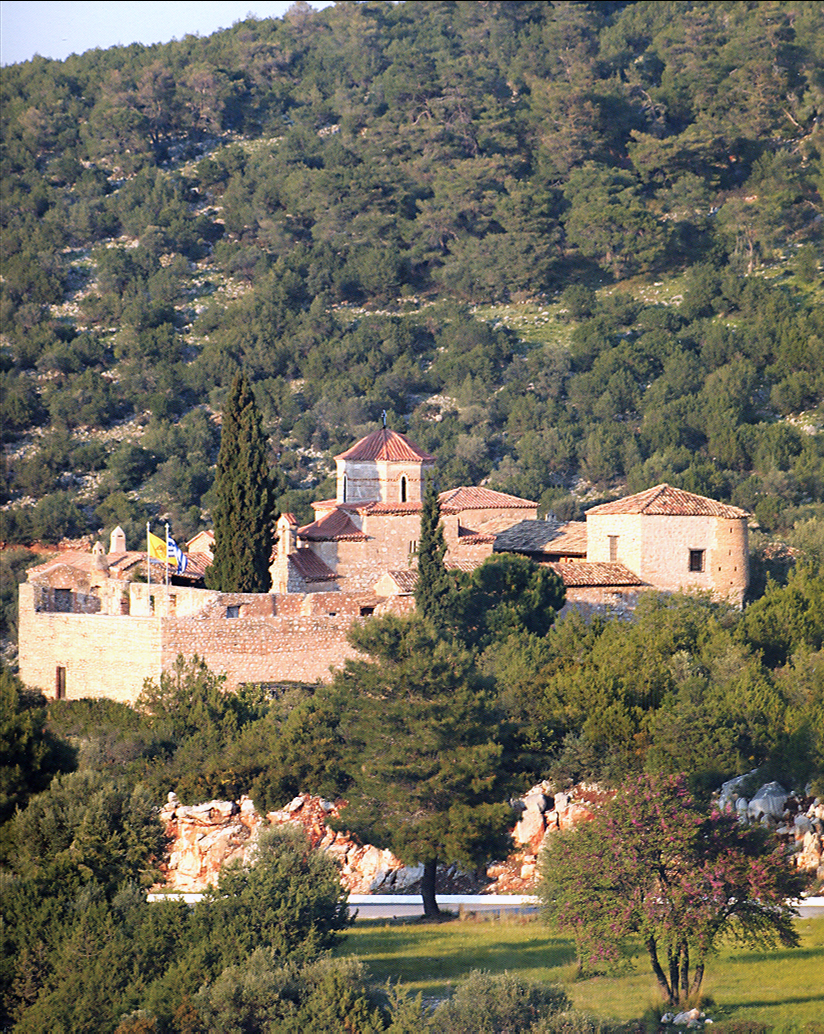 THE MONASTERY OF THE VIRGIN OF AGNOUNTA

Item ID : 367
Collection Name : Holy Metropolis of Argolida
Type : Monastery
Year : 11th AD
Current Place : Ligourio
Description : One of the oldest and most beautiful monasteries of Argolida is revealed in an open space of the road leading from Cortinthos to Epidavros. Internally the mo
The establishment dates back during the Byzantine years. Some researchers believe that it was founded in 11th century based mainly their estimations, on a carving on the arch of the sanctuary, which shows the date 1029.
The monastery was founded during the Byzantine period , and during the 15th is already at its peak , its history is linked to the action of the monk Antony , who gave great impetus to monastic life in the region .
Although the monastery was exempted from taxes to the Turkish conqueror , throughout the 19th century will face major economic problems. Which is also the main reason for the union of the monastery with Archangels monastery, and in 1891 with the Monastery of Talantio .
Great was the charitable activities of the monastery during the Turkish Occupation and the feeding of the ridden people of Nafplio . The renovation of the monastery of the last two decades was fully respecting the character of a fortress.
The renovations, which took place over the last decades of the monastery buildings , maintained the old monumental presence. Nursed the stone edifice and maintained the character of the fortified monastery , which forms the tall ( 8 feet ) wall of the enclosure , on which are affixed to the buildings.
On the wall is visible the turrets while the south west corner remains one of the cylindrical turrets that strengthens defences monastery. The entrance is on the west side and covered with large elongated dome , the passageway .
This leads to the well kept courtyard of the monastery, to the centre of which stands the church , flanked all around by decker cells and ancillary areas.
Only the western side of the temple has a decoration .
Above the entrance door on the right pilaster is embedded a stone with an illegible inscription , fitted by a notched dentil frieze , and a semicircular niche with the image of Virgin Mary and the honoured marble order of a lion , which has been transferred from the neighbouring Asklipieio of Epidaurus .
Under the two-lobe window there is square armour plate with a relief of isosceles cross.
Higher up on the roof rises lobed bell-tower , which is crowned by a triangular pediment .
In the four crests of the dome, marble jewellery have been embedded , representing a male and female head , and two fruits ( watermelon and a melon ) , behind them though are sound vessels exists , as this is evidenced by the visible holes .
Inside, the church is full of icons that reveal the richness of orthodoxy. Inscription under the south window indicates that the narration was the year 1759 from Anagnosti Papadopoulo, who has faithfully followed the Byzantine tradition.