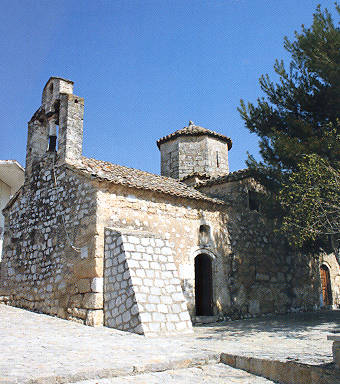 THE ASSUMPTION OF THE VIRGIN

Item ID : 364
Collection Name : Holy Metropolis of Argolida
Type : Temple
Year : c. 18th AD
Current Place : Ligourio
Description : The church s architectural type belongs to the inscribed cross-in-square type. Its a post-Byzantine church which on the west side a two-storey spire and a two-lobed bell-towers rises, which from small chiselled domes. Instead of columns the bell tower has two bases of ancient temple parts.
The entrance to the temple , which gives the impression of a three-aisled basilica , and the entrance is on the south above of which it is configured hagiographic arched niche.
The entire temple interior decoration is kept in good condition .
The inscription above the entrance indicates that the church was built : by the "expense of people of the area and all, under the period of the Bishop Iakovou in the year 1701."
Higher than the church an hill, a small basilica stands on and is dedicated to the Taxiarches, and on its side walls, are depicted remarkable icons of the Taxiarches.