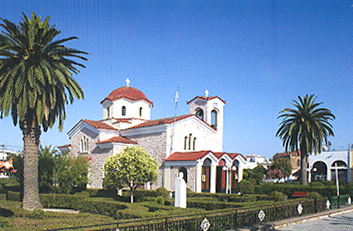 THE CHURCH OF VIRGIN MOTHER OF GOD

Item ID : 349
Collection Name : Holy Metropolis of Argolida
Type : Temple
Year : c. 15th AD
Current Place : Nea Kios village
Description : The church is a three-aisled Basilica with dome, build in the well known cross-in-square layout. The icon of Theomanas (Mother of God) painted , according to tradition , around the 12th century by Byzantine painter in Constantinople and from there a monk from Nice brought the icon to Kio.
It survived intact when fire destroyed it in 1336 the church of the Assumption and safeguarded until 1822 in the chapel of Theomanas , which was built in the central street of Cius .
On the eve of the ceremony of its nameday, held on August 22, 1922 , the icon was hidden in the luggage of Malamos Mavroudi got together to become refugees .
They passed from Selymbria and Raidestos and arrived in Kavala and remained in Thessaloniki until 1935, where residents of Nea Kios greeted with a solemnity to the train station of Argos and placed in the small chapel that was later replaced by the modern church .
In 1955, the icon of Theomanas delivered for maintenance to the well-known hagiographer Kontoglou Fotis , who gave his own distinctive style to the forms of the Virgin Mary and baby Jesus Christ.