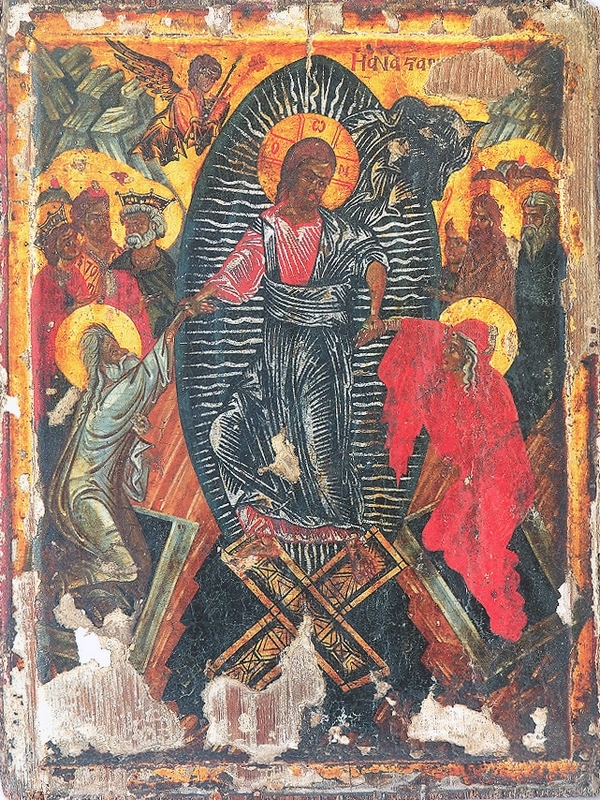 The Descent into Hell

Item ID : 338
Collection Name : Holy Metropolis of Limnos and Ag. Eustratios
Dimension : 27Χ20,5Χ2,5
Description : The scene depicts Christ, centrally located within an elliptic mandorla (aureole). He is presented full length in a contra-posto position standing on the cross-shape Hell doors.
He is wearing a black cloak with fine lineaments outlined with white strikes. His tunic is rendered in the same way but in a vivid red color. His head is surrounded by a gold halo bearing the letters: Ο ΩΝ.
His face is turned to the right side of the panel facing directly Eve. With his right hand he is pulling Eve out of hell and with his left hand he is pulling Adam out of hell.
Eve is depicted prostrated on a burial slab, clad in a red garment and bearing a halo. Above her and against a gold background a group of people, also raised from Hell, are depicted with St. John presented in the front. At the top corner of the icon schematically rendered mountain peaks are depicted.
At the left side of the icon and above Adam, the group of the righteous Kings of the Old Testament is depicted raised also from hell. They are also depicted against a gold background.
Above them an angel holding the Instruments of Christ Passion-a lance, a sponge, and a cross with the crown of thorns, is presented hovering over the sky.
The pictorial execution of the theme, the particular iconographical and stylistic type, such as the dark proplasmos of the facial characteristics with the alternating subtle and limited highlights and tints, the intensive tonality of the lips color and the elongated figures, are characteristics that depicts the return of the iconographic art, to the Paleologan prototypes.
The icon can be dated to the first half of the 18th century.