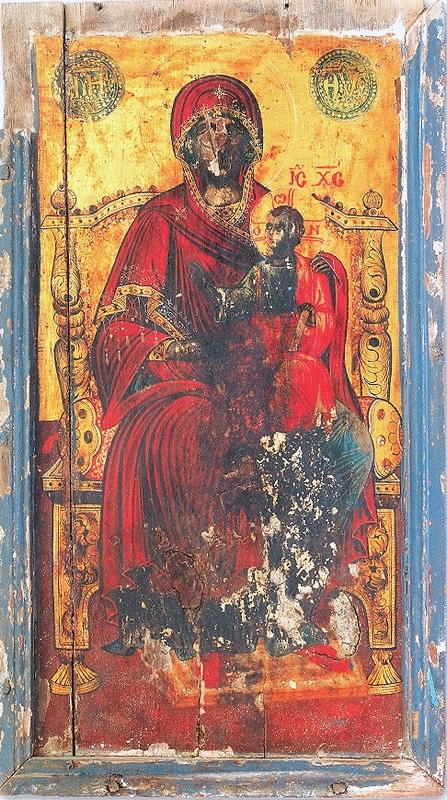 Virgin Mary enthroned and Christ child

Item ID : 334
Collection Name : Holy Metropolis of Limnos and Ag. Eustratios
Dimension : 71,5Χ40,5Χ5,3
Description : Virgin Mary is depicted enthroned, holding the Christ Child. The frame of the icon is broadly deteriorated and the top part is missing. The panel itself has been suffered severe damages, but despite that fact remains exceptionally beautiful.
Virgin Mary is presented sitting on a wooden throne with, frontally looking and full length against a gold and dark--red background. The throne has a semicircular wide backrest, elaborately ornamented around the top edge with geometrical motifs band that ends into two round-shaped carved balls, symbolizing the world cruciger. The right and left edge of the throne's top part, is carved in an undulating way. The lower part of the throne is rendered with vertical edges, which finish into conical dainty legs.
Virgin Mary is clad in a crimson red maphorion rich in subtle tonal transition, with the traditional and almost laconic decoration around the edges, and a bluish tunic decorated with gold striations. She is embracing the Christ Child in her left arm while she is touching his shoulder with motherly care. Unfortunately her facial characteristics are almost distorted from the deterioration, but one can see the dark under paint and the smooth shadings. Her right hand is extended to the traditional presentation gesture towards the Christ Child.
Christ Child is clad in a crimson red cloak and a grayish tunic. His face is affectionately directed to his mother. His nimbus is simplistically incised and bearing in red majuscules the letters: Ο ΩΝ. Above his head and to the left side the words: IC CX are inscribed.
At the top corners, two medallions in green color and tendril motifs, engulfs the letters: ΜΗ ΘV.
Stylistically and ichnographically traits, convey that the icon has an Athonite (Mount Athos) origin.