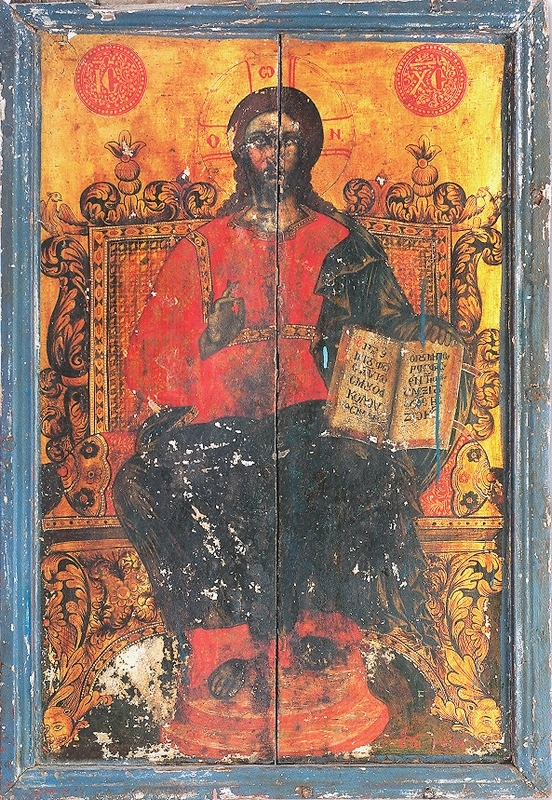 Christ 'Pantokrator' enthroned

Item ID : 333
Collection Name : Holy Metropolis of Limnos and Ag. Eustratios
Type : Icon
Year : Late 17th century
Dimension : 71Χ49,5Χ5,5
Current Place : Saint Demetrius chapel – Saint Demetrius church
Description : Christ is depicted in the traditional figure stance as 'Pantokrator.' He is presented full length, centrally located and looking directly at the viewer. He is seated in a wooden throne with a high backrest, rich in geometrical motifs and rinceau around the borders. The throne has great decorations around the arches and the railings, bearing influences from the Venetian school.
Christ is seated in a red cushion embroidered with scale spiral and floral motifs, and his feet rest on a red footstool.
He is clad in a dark green cloak subtle in highlights, and a red tunic plain in ornamentation. A clavus with lozenge motifs decorates his right shoulder and waist.
He raises his right hand in the blessing attitude, while an open gospel book is poised on his left knee, on which the passage: "Come to me, all you who are weary and burdened, and I will give you rest. Take my yoke upon you and learn from me, for I am gentle and humble in heart, and you will find rest for your souls. For my yoke is easy and my burden is light." (Math.11:28-29). Christ facial characteristics express austerity and compassion. An incised halo, encircle Christ head, in which the letters: O ΩΝ, can be read.
Against the gold background, two red medallions rich in coiled motifs exist at the top of each corner of the panel. In monogrammatic majuscules the letters: IX XC can be read.
The iconographic affiliation of the icon and the stylistic treatment of the subject suggest that the icon originates from Mount Athos area.