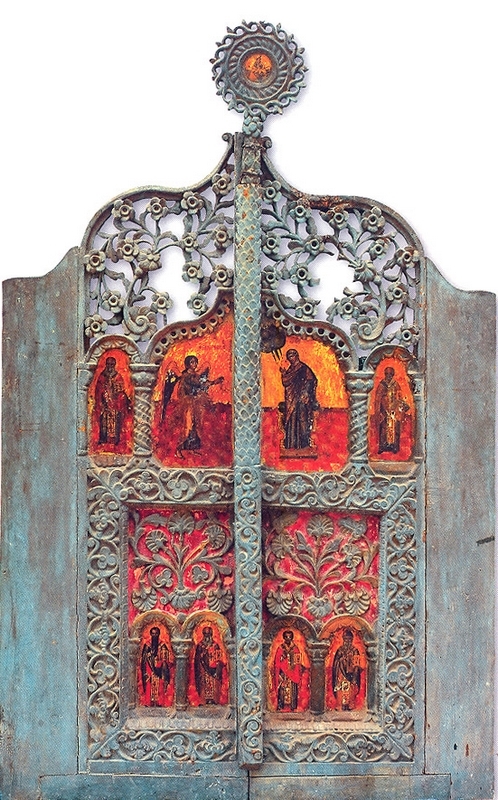 Wooden carved santuary doors

Item ID : 331
Collection Name : Holy Metropolis of Limnos and Ag. Eustratios
Dimension : 144Χ92Χ2
Description : The sanctuary door brings wooden carvings as well as painting decoration. The doors consist of two panels, similar in the carved decoration, different in the iconographic depiction but integrated to the theme.
The scenes are portrayed in horizontal partition. To the left side of the door, Archangel Gabriel is depicted in a miniaturist manner, full length against a two colored background, forwarded to Virgin Mary offering her the Virgin Lilly. On the opposite side of the panel (second door), Virgin Mary is depicted in full length, in a standing position leaning towards the Archangel. Her hand is raised in an attitude of acceptance. She is depicted against the same color background as the first door. From the left corner amidst a grey color cloud, three rays directed to her, symbolizing the Holy Trinity.
The scene of the Annunciation of the Virgin is compartmentalized, by a schematically rounded pillar decorated in spiral ornamentation.
Before the Archangel Gabriel figure and divided by a schematically carved pillar with wooden spiral motifs, the icon of Saint Athanasios is depicted; in a frontal standing position and under a curved semi-circular apse. On the other side, divided by the same style pillar, Saint Nicolaos is depicted in a frontal standing position and also standing under the same symmetrical apse.
In both upper sides of the doors, the wooden carvings are elaborately and subtly carved with a rinceaux witch bears alternating motifs of rosettes and tendrils.
On the lower part of the sanctuary doors, on the concrete part and on the left side, the figures of the Saint Vasilios and Saint Gregorios, appears in a standing position each under an apse and separated by a pillar in between. On the right side, following the same schematically rendered approach, Saint John the Chrysostom and Saint Spyridonas are depicted.
The border around their figures, are masterfully carved with a spiral guilloches with alternating rosettes and acanthus leafs.
At the top of the central band, a round, wooden carved rosette exists. Within the rosette, the image cherub is depicted.