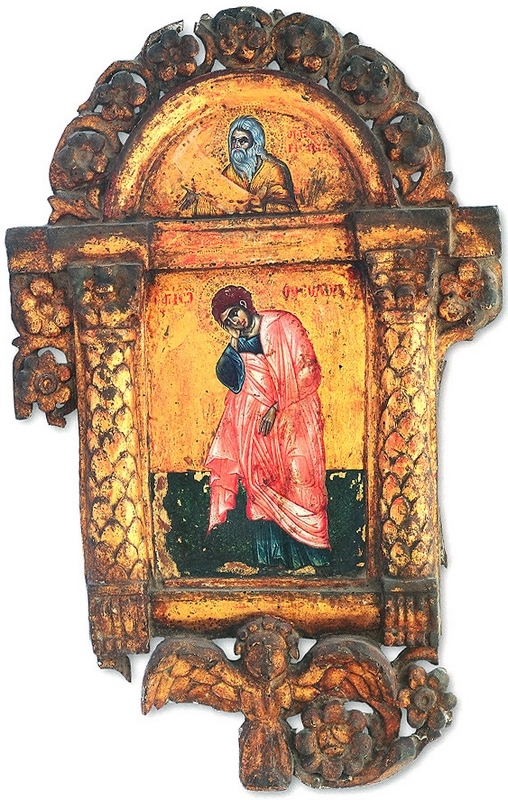 Saint John the Theologian

Item ID : 328
Collection Name : Holy Metropolis of Limnos and Ag. Eustratios
Type : part from the church iconostasis
Year : Eighteenth century
Dimension : 66Χ42Χ6
Current Place : Saint Trinity church – Myrina
Description : The icon is engulfed in a wooden curved panel which ends in a semi-circular apse. Each side of the panel represents two pillars ornamented with foliate decorations. The top of the frame is a semi-circular apse curved with rinceau of coiled rosettes around the hollowed our border.
The central icon depicts Saint John the Theologean as a young man, centrally located, full –length against a gold and dark green background. He is clad in a pinkish cloak very rich in pleats in white and darker nuances of pink, falling elaborately from his shoulders. His young face is poised against his left hand and by this gesture is expressing his sorrow and lamentation for his crucified master, while his right hand is covered and only his palm is emerging from his cloak. His tunic is of a dark blue color rich in elaborate folds and pleats in a lighter blue color.
The outer part of the halo is bordered with a rinceau which bears tendrils of rosettes motifs.
On the top of the panel, engulfed in the rich wooden frame, prophet Isaiah is depicted in a bust form, portrayed as an old man with rich white hairs and beard. His is also turned to the left holding an open scroll with his two hands.
Stylistically the iconographic elements of the representation of the scheme, suggest that the iconographer had great influences from the traditional techniques that evoked from the rebirth of the Paleologan prototypes. The icon can be dated in the first half of the eighteenth century.