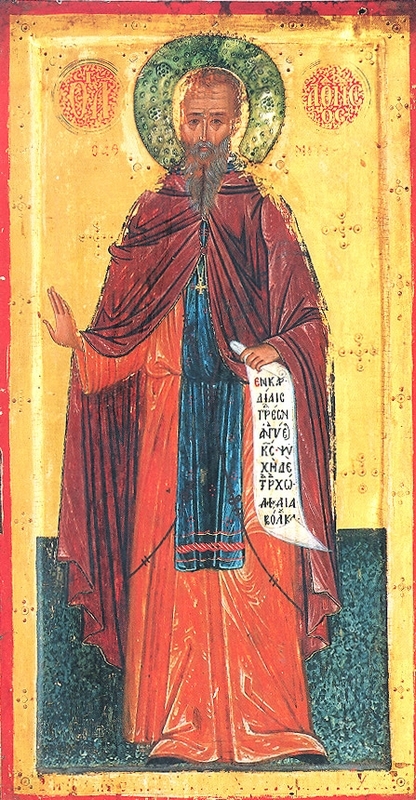 Saint Athanasius the Athonite

Item ID : 322
Collection Name : Holy Metropolis of Limnos and Ag. Eustratios
Dimension : 73Χ39,5Χ3
Description : Saint Athanasius is the founder of the monastic community in Mount Athos, the center of the Eastern Orthodox monasticism, by establishing the Monastery of the Great Lavra.
He is depicted in frontal position, full length and facing directly the viewer against a bright gold background that changes into blue color while reaching the bottom of the icon.
The saint is clad in a brown cloak buttoned, around his neck and gracefully unfolds in pleats from his shoulders. The cloak is pleated with almost linear lineaments of darker color.
His tunic is orange drapery having ochre striations. He wears a dark blue stole with red leafy patterns.
His right hand is raised up to his waist in a benediction attitude, while with his left holds an open scroll inscribed in black majuscules.
Saint bears a green halo with rosettes motifs in relief. Above his shoulders are two triple incised circles rich in red coiling decoration, and in majuscule letters one can read: " THE SAINT" "ATHANASIOC," respectively.
The iconographic and stylistic pictorial execution of the saint's figure and certain details, leads to a Macedonian provincial workshop. The icon can be dated to the second half of the 17th century or the beginning of the eighteeth century.