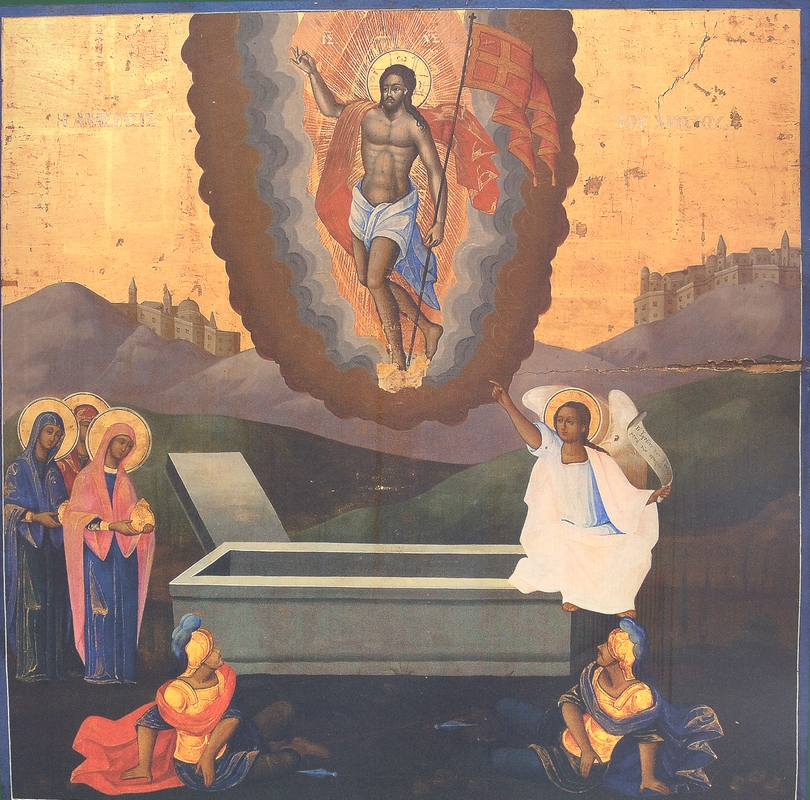 The ressurection of Christ

Item ID : 310
Collection Name : Holy Metropolis of Ydra, Spetses and Egina
Type : Icon
Year : End of the 19th AD
Place : Idra
Τechnique : Egg tempera on wood
Dimension : 62 x 62,5 εκ
Current Place : Saint Athanasios church, Gourmadas
Description : Christ is depicted is presented full length within a double elliptic triangular mandorla with emanating rays in each side, and terminating in three conical edges. He is occupying the central axis of the icon, intelligibly dividing the panel into two parts. His right hand is raised in an attitude of benediction, while with his left hand holds the red Resurrection labarum (flag).
He is wearing just a loincloth around his waist and a red himation that flows below him.
In shinning white garments an angel holds an open scroll, and showing high above the sky. He is sitting in front of the open grave, welcoming the three myrrh-bearing women.
Lower and right in front of the open grave, two soldiers are depicted falling to the ground struck in wonder before the divine manifestation.
Two schematically rendered towns fulfill the barren landscape of the gold background. The inscription:"THE RESSURECTION OF CHRIST," (Η ΑΝΑCΤΑCΙC ΤΟΥ ΧΡΙCΤΟΥ), painted in white majuscules can be read on the background.