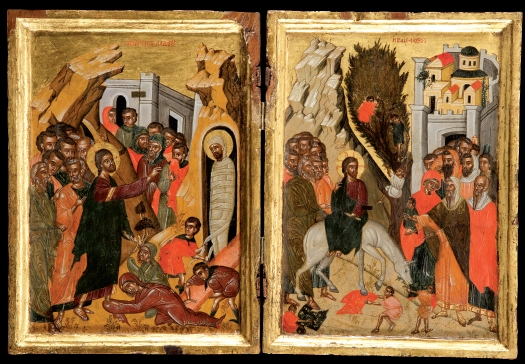 The Resurrection of Lazarus (A) and Jesus' Entry into Jerusalem (B)

Item ID : 31
Collection Name : Holy Metropolis of Zakinthos and Strofadon
Year : Late 16th century
Τechnique : egg tempera
Materials : wood
Dimension : 26 x 37.5 x 2
Description : Description: left wing of the diptych – The Resurrection of Lazarus (A)
The scene is painted in the central section of the panel. On the left side of the icon Christ is depicted full length stretching out his right hand towards Lazarus, commanding him to come out of the tomb after he had lain in the grave four days. Lazarus is coming forth from the tomb, still bound in the strips of burial cloth, while someone is depicted removing the shrouds band.
His sisters, Mary and Martha are bowing before Christ. Next to them is someone who has followed the request of our Lord and removed the stone from the door of the tomb.
On the background a group of people proportionally portrayed are watching Christ performing the miracle. The illustration of many almost miniaturist figures prompts the viewer to the recognition of the iconographic style attributed to the Paleologue Renaissance. The Cretan's School stylistic origins can also be recognized in the depiction of Lazarus coming out from the rocky tomb.
Discription: right wing of the diptych – Jesus' Entry into Jerusalem (B)
The icon represents Christ roding triumphantly into Jerusalem. The Disciples are on the left side of the panel, and The Jews on the extreme right. The rendering of the scene combines a sophisticated amalgamation of Cretan workshops. The depiction of Christ entering the town carried by a donkey resembles His humbleness. As a sign of honor, the crowd which acclaimed Jesus carried palm boughs and branches, garments are spread on the ground for the Lord. With His right hand He blesses and in His left hand He holds the scroll. The city of Jerusalem is in the background, walled and the temple is symbolized by the dome. Worth noted are the realistic features, expressive faces and but also a revealed presence of solemnity. The structure of the composition with a vanishing central point presupposes knowledge of linear perspective that is affiliated on Cretan icons.