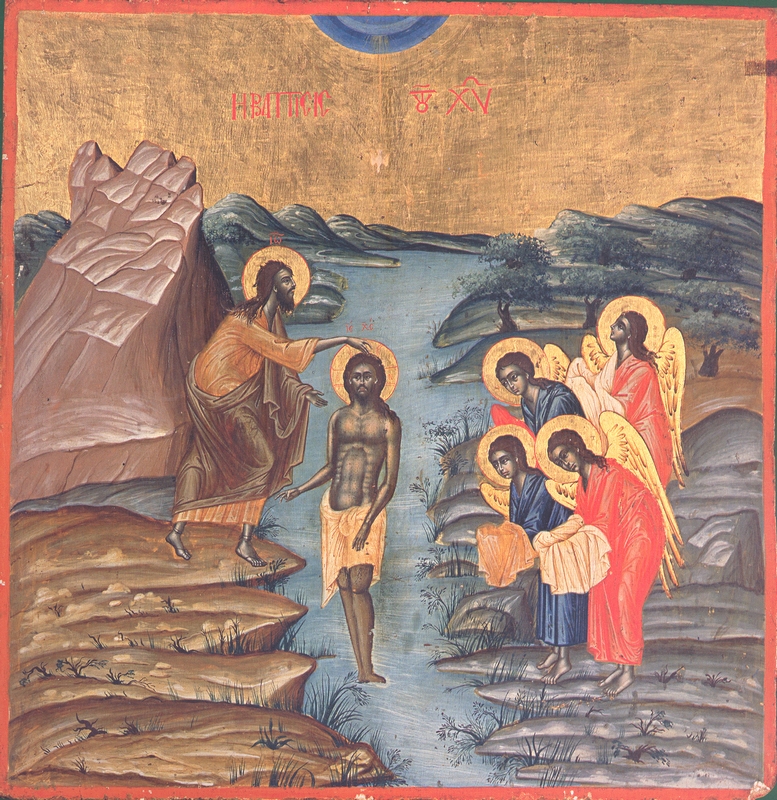 The Baptism of Christ

Item ID : 309
Collection Name : Holy Metropolis of Ydra, Spetses and Egina
Type : Icon
Year : End of the 19th AD
Place : Idra
Τechnique : Egg tempera on wood
Dimension : 62,5 x 62 εκ
Current Place : Saint Athanasios church, Gourmadas
Description : Centrally located, in the middle of the Jordan River, Christ, almost naked and wearing just a loincloth around his waist, stands slightly turned to the left side of the icon. His right hand is blessing while with his left rests on the loincloth. His head is encircled with an incised halo containing a cross, on the arms of which the letters: O ΩΝ appears.
John the Baptist is shown on the left bank of the river, leaning towards Christ. His right hand is stretched out and resting on Christ head, while with his left holds a closed scroll.
On the left bank of the river four angels are bowing low, wait upon Christ, having their hands covered.
The landscape represented rather barren and with sharp tops and few sparse trees in both rocky tops separated by the flowing river.
At the top part of the composition through semicircular motifs three rays are emitting from which the middle one the "Holy Spirit, in the form of a white dove is directed above the Christ's head.
A bit lower, at the golden background the inscription: "The Baptism of Christ," in majuscules is written.