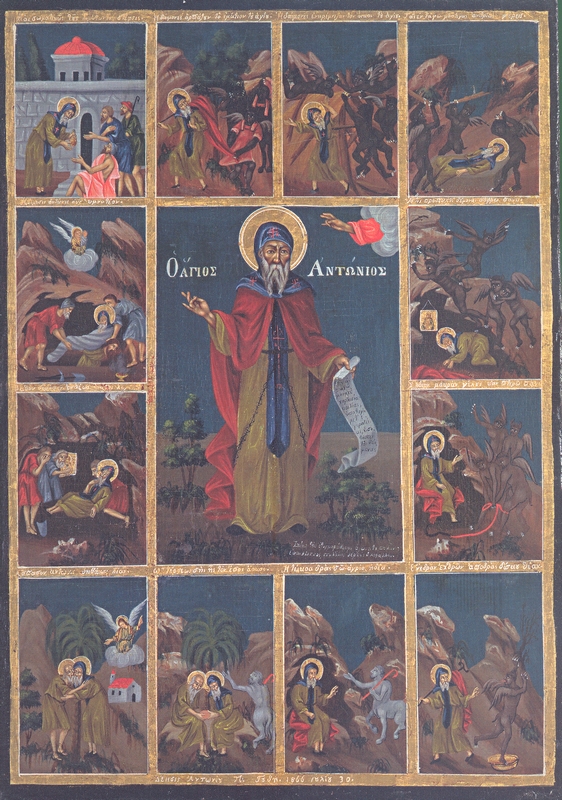 Saint Antonios and vita scenes

Item ID : 307
Collection Name : Holy Metropolis of Ydra, Spetses and Egina
Type : Icon
Year : 1866c. AD
Place : Idra
Τechnique : Egg tempera on wood
Dimension : 68,5 x 49 εκ
Current Place : Saint Athanasios church, Gourmadas
Description : Saint Antonios is presented full length; iconographically the representation of the Saint follows the traditional clad of a monk's habit consisting of a red-brown cloak, an ochre-brown chiton and a grey-blue cowl embellished with red cross motifs that covers his head. The depiction of the Saint as a monk is a characteristic that define his pioneer -ship as the founder of the monasticism in Egypt.
The aged face of the Saint is depicted ascetic and scorched by the head of the desert.
His right hand is extended in a blessing attitude, while holding an open scroll with his left.
In the upper right corner of the icon amidst clouds the hand of God is finely rendered, blessing the hermit saint.
On the lower part of the icon in a green color background and through some bushes, the devotional inscription: "Deisis An. P. Gouvi, July 1866,"
can be read.
The central theme is flanked by twelve scenes from the Saint's life, which are separated by gold frames, the explanation of each one is written in white miniaturist letters.