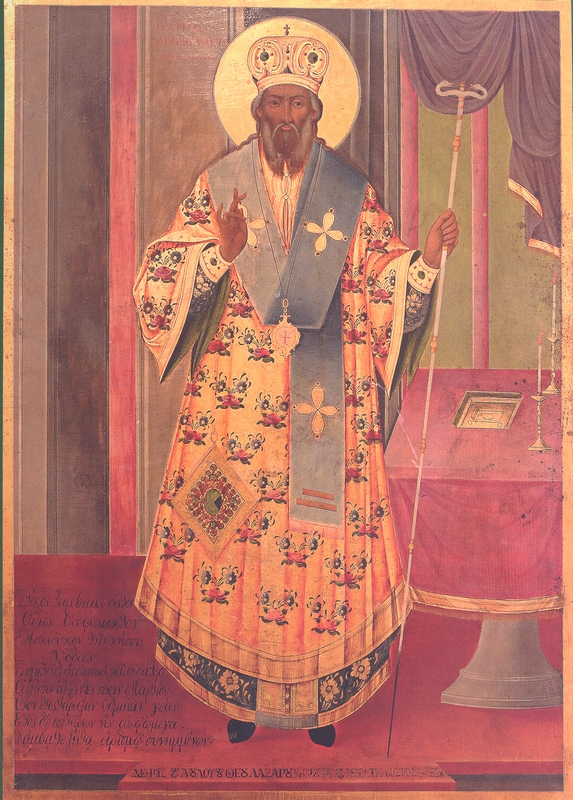 Saint Theofilactos

Item ID : 306
Collection Name : Holy Metropolis of Ydra, Spetses and Egina
Type : Icon
Year : 1837c. AD
Place : Idra
Τechnique : Egg tempera on wood
Dimension : 55,5 x 40,5 εκ
Current Place : Saint Athanasios church, Gourmadas
Description : Saint Theofilactos is depicted inside a schematically rendered building, full length and in a frontal position, facing directly the viewer and against a dark gold background. He is clad in full priest chasuble, a dark red phelonion (a chasuble of an archaic origin) with rosettes motifs, and a greenish sticharion with fine striations and the epigonation (a stiff lozenge shaped piece of fabric suspended over the right knee). His left hand is raised holding a crosier adorned with jewels, and his right hand is in a benediction gesture.
His facial characteristics are of an old man, having and long beard and long tight hair, while his expression attest kindness and austerity.
Part of his nimbus is covered by a silver relief ornamented with a rich coiled tendril with floral motifs.
On the back side and to the right the marble Holy Altar is depicted, in which a Gospel book and two lighten candles are installed.