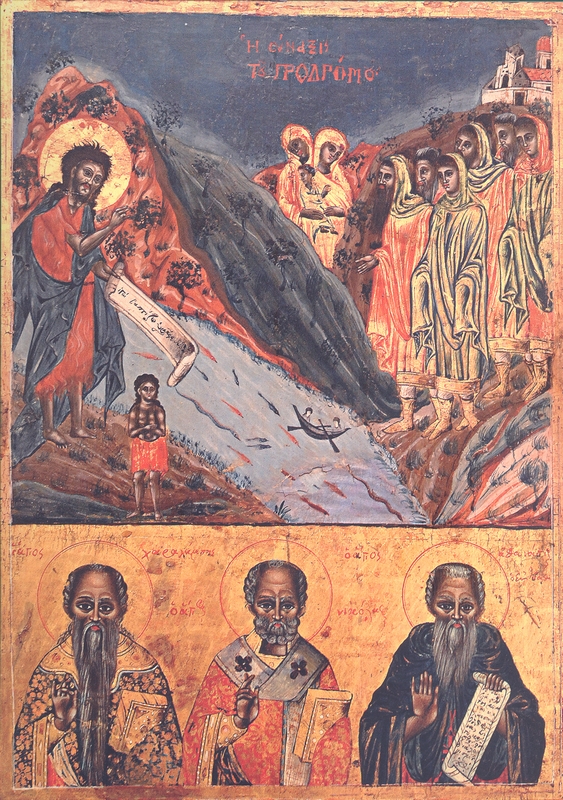 The gathering of St. Prodromos

Item ID : 304
Collection Name : Holy Metropolis of Ydra, Spetses and Egina
Type : Icon
Year : 19nt c. AD
Place : Idra
Τechnique : Egg tempera on wood
Dimension : 47,5 x 35 εκ
Current Place : Saint Athanasios church, Gourmadas
Description : The panel is divided in two uneven tiers. The upper one which occupies the larger part of the icon, "The Gathering of St. Prodoromos" is represented.
To the second one the three Saints: St. Charalambos, St. Nicholaos and St. Athanasios from Mt. Athos are represented from the left side respectively……..
The Gathering of St. Prodromos narrates the St. Marks gospel ch. A', 4-5 and St. Mathew ch. Γ,' 5-6, where St. John the Baptist, perform the mystery of christening.
The scene unfolds in a rather barren rocky, with sparse green bushes. St. John the Baptist is depicted standing in a full length on the left bank of the river. He is wearing a dark-blue himation rich in striation that folds around his body, while holding a scroll inscribed with calligraphic letters the words: "εγώ βαπτίζω υμάς ύδωρ." In front of him a child having his hands crossed in front of his chest is ready to baptize.
On the right bank of the river a crowd of people are depicted waiting for their order for the christening. On the background a schematically rendered town is depicted.
An interesting detail of the particular icon is the micrograph of a small boat with two figures inside, and the colorful fishes that are in the river.