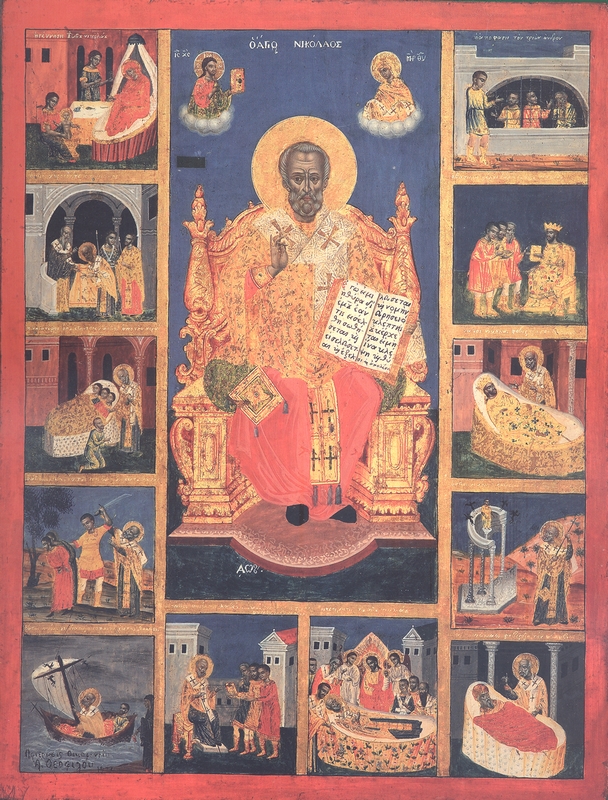 Saint Nicholas and some vita views

Item ID : 302
Collection Name : Holy Metropolis of Ydra, Spetses and Egina
Type : Icon
Year : 1806 AD
Place : Idra
Τechnique : Egg tempera on wood
Dimension : 59,3 x 46 εκ
Απόκτηση : Αφιέρωσις Οικογένειας Α. Θεοφίλου 1972
Current Place : Saint Athanasios church, Gourmadas
Description : Saint Nicholas enthroned, seated in a wooden throne with a high backrest, rich in geometrical motifs and rinceau around the borders. The throne has great decorations around the arches and the railings, bearing influences from the Venetian school.
Saint Nikolas is depicted in full length and clad in Bishop Vestments. His face is portrayed in austere and solemn expression. He is looking directly to the viewer with a penetrating gaze. The stance of the figure is depicted according to the established Cretan school of art. He is holding a gospel book adorned with jewels with his left hand his right hand is extended in a blessing attitude.
In the upper portion projecting into the clouds Christ and the Virgin Mary respectively, offer the gospel Book and the vestments, symbols of his the sacerdotal office. In the upper center section and onto the dark blue plain stretches the inscription: ΑΓΙΟΣ ΝΙΚΟΛΑΟΣ (SAINT NICHOLAS).
On three sides, of the icon, in separate panels of, twelve episodes from the life of the popular saint are represented.