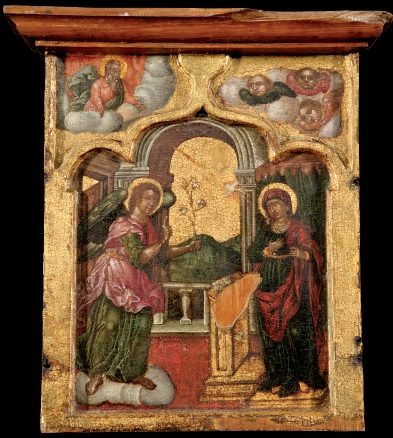 The Annunciation of the Blessed Virgin – main part of a triptych

Item ID : 30
Collection Name : Holy Metropolis of Zakinthos and Strofadon
Year : Early 18th century
Τechnique : egg tempera
Materials : wood
Dimension : 22.5 x 19 x 1.8
Description : The icon is painted on a wooden hollowed panel. Under a trilobe arch in relief, Archangel Gabriel announces Virgin that She will conceive and become the mother of Christ the Son of God marking his incarnation. Gabriel is depicted on the left side full length standing on a cloud. His hand is extended toward Mary as he delivers the message in the form of a Madonna-lily announcing the blessing bestowed upon her by God. On the right side of the icon, Virgin is depicted full length. Her right hand is raised in a gesture of acceptance in response to Gabriel's message. Her posture expresses willing cooperation with God's plan of salvation. On the right side of the panel and above feathered angel faces are depicted floating in the clouds.
On the opposite side a representation of the God Father as the "Ancient of Days", is depicted with patriarchic figure with a white beard dressed in a purple chiton and emerging through clouds. His hands are illustrated pointing at Virgin sending to her the Holy Spirit in the form a white dove.
Several artistically detailed illustrations indicate the influence of the Flemish School of art.