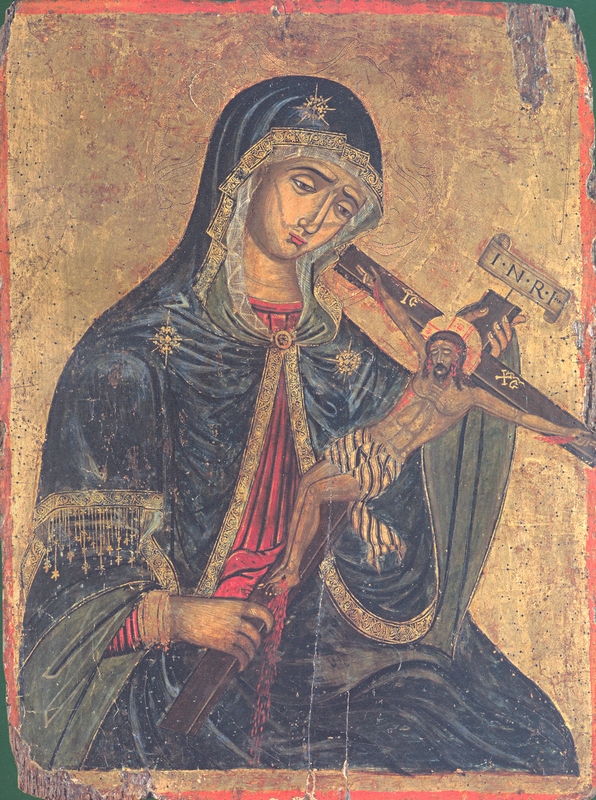 The Lamentation of Virgin Mary

Item ID : 295
Collection Name : Holy Metropolis of Ydra, Spetses and Egina
Type : Icon
Year : Second- half of the 18c. AD.
Place : Idra
Τechnique : Egg tempera on wood
Dimension : 63,5 x 49 εκ
Current Place : Saint Athanasios church, Gourmadas
Description : On a plain gold background, the Virgin is depicted seated on her knees. He position is in a three quarters nod to the Crucified who holds with both hands.
The Virgin wears a red chiton (inner garment) and a dark blue maphorion with western type influence. Her maphorion which is buttoned below the, neck is adorned with rich embroidery, fringing with the three traditional motifs of the gold stars on the front and shoulders.
Under the maphorion, a transparent reticulum falls symmetrically around the youthful her face.
On the cross Christ, is presented naked, only with banded skirt, shown dead with closed eyes. In the speckled halo of the Virgin spread helical strands, while in the Christ's halo, written in red majuscules the inscription: « Ο ΩΝ» (The One Who Is), can be written.