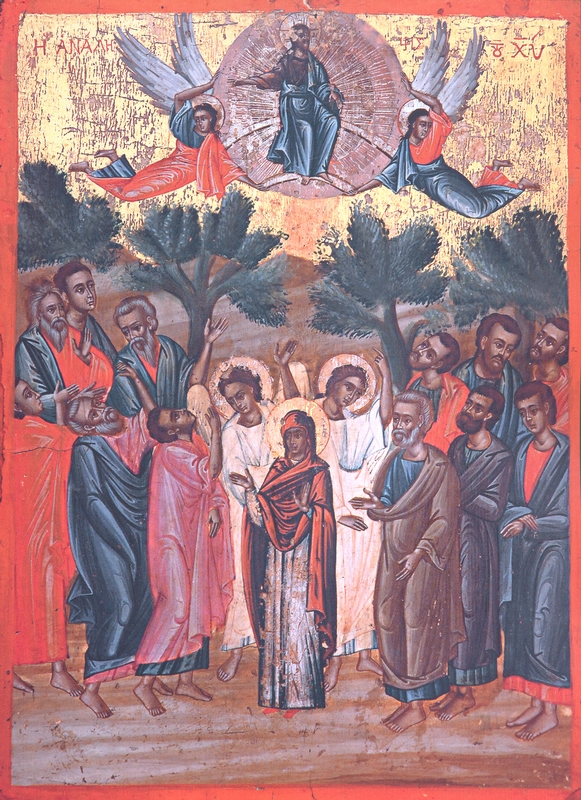 The Assumption of Christ

Item ID : 294
Collection Name : Holy Metropolis of Ydra, Spetses and Egina
Type : Icon
Year : Second- half of the 18c. AD.
Place : Idra
Τechnique : Egg tempera on wood
Dimension : 52,5 x 33 εκ
Current Place : Saint Athanasios church, Gourmadas
Description : On the top of the central peak of Mt Tabor, Christ is depicted standing in bright and shining garments, an ochre cloak, and a white tunic. He is presented full length within a double elliptic mandorla with emanating rays in each side, while two angels are shown holding the glory and against a gold background. The scene is occupying the central axis of the icon, intelligibly dividing the panel into two parts. His right hand is raised in an attitude of benediction, while his left hand it's covered and a rolled scroll can be slightly seen.
On the ground part of the icon Virgin Mary is located just below Christ sharing the same axis.
Flanked the Virgin, and split into two half-spaces, The Apostles Peter and Paul respectively, are depicted, which with lively gestures and postures seems to be struck by the manifestation of the Holy event.
In the background the Mount of Olives, is presented. The olive trees with dense foliage, distinguishes earth from the heavenly world, and low to the ground gently waving small shrubs are depicted.
The icon is framed by vaulted frame with flowery motifs.