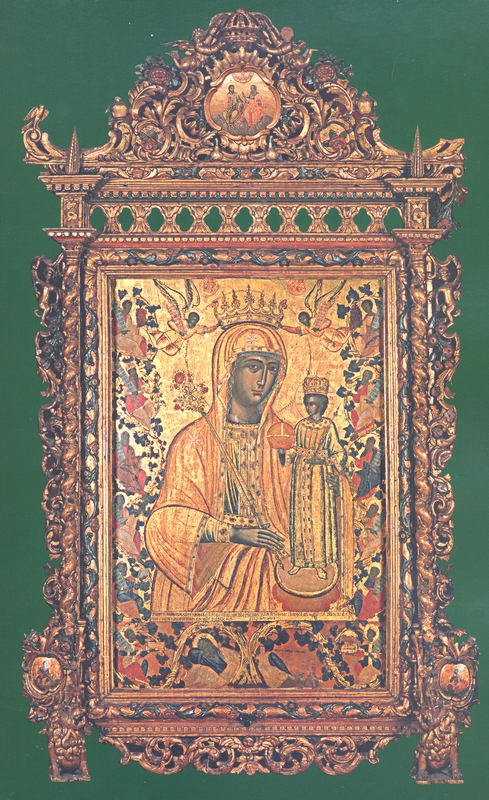 Virgin Mary (The Unfading Rose)

Item ID : 291
Collection Name : Holy Metropolis of Ydra, Spetses and Egina
Year : Second- half of the 17c. AD.
Place : Idra
Τechnique : Egg tempera on wood
Dimension : 98 x 66,5 x 2,5 εκ (χωρίς πλαίσιο)
Current Place : Saint Athanasios church, Gourmadas
Description : The magnificent and delightful composition dominates the center of the Virgin Mary, depicted by the waist, holding a crusader flowery bar, and rising out of pink roses. She wears a red maphorion decorated with roses. With her left hand, which is just visible, she holds her Son, in a manner totally different way seen in the icon of the Virgin and Child. She is merely supporting him as The Christ Child which, he is standing on a disc, above the clouds.
Christ Child is depicted in the form of an older child and he wears gold decorated royal attire, which is a rather Western inspiration. He is also wearing a golden crown. In his left hand he holds a scepter and in his right the global orb painted in a bluish color. Flanking him, in a dense spiral vine-shoot is painted in the stems of which sits the twelve Prophets, every six on each long side, keeping unrolled scrolls and their symbols.
Two golden dressed angels frowning in the sky in each side of the Virgin's face, holding open scrolls are crowing her head.
On the lower part of the icon, right at the root of the vine, Jessay, (Iessai) is outspread on the ground.
Under the Virgin, in narrow rectangular frame with two verses in black letter one can read: "UNFADING ROSE, HAIL YOU ALONE PUT FORTH THE FRAGRANT APPLE."
The icon is framed by a wooden carving of exquisite beauty and masterly created.