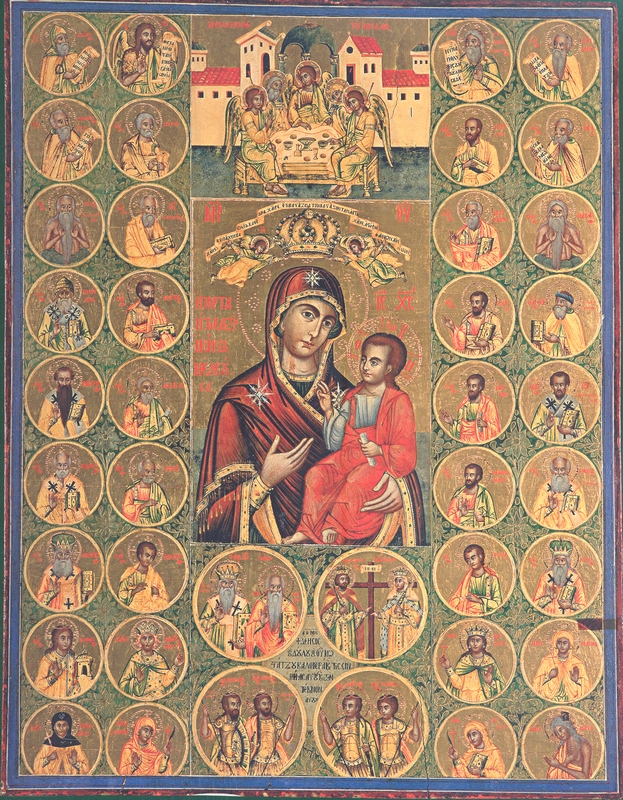 Virgin Mary (Portaitissa)

Item ID : 290
Collection Name : Holy Metropolis of Ydra, Spetses and Egina
Type : Icon
Year : Second- half of the 17c. AD
Place : Idra
Τechnique : Egg tempera on wood
Dimension : 73 x 57,5 εκ
Current Place : Saint Athanasios church, Gourmadas
Description : The icon Virgin Mary is centrally located against a gold background. She is represented tenderly holding the Christ Child in her left hand, while her right hand is outstretched in a supplication gesture. She depicted in a bust-length, wearing a dark red maphorion bordered by gold hem embellished with gems around the edges.
Her maphorion is ornamented with the three traditional stars, on the shoulders and one on the head cover.
A rather rare characteristic of the icon is the pictorial execution of a "wound" that bleeds at her right side of her cheek, a sign being drown so as recalls the blow suffered from the barbarian.Christ Child wears a dark red himation with light draperies and a bluish chiton. He has a jaunty poise, holding a closed scroll with his left hand while blessing with his right hand.
Christ halo is incised and bears a dotted outline. Inside the halo a Cross is formed made within the halo in its three arms the letter: "O ΩΝ," (The One who Is), is written in red letters.
The rest of the icon is full of medallions having inside the portraits of various Saints.
The background of the rest of the icon has a green color and is decorated with scaled, spirals and floral leaves.