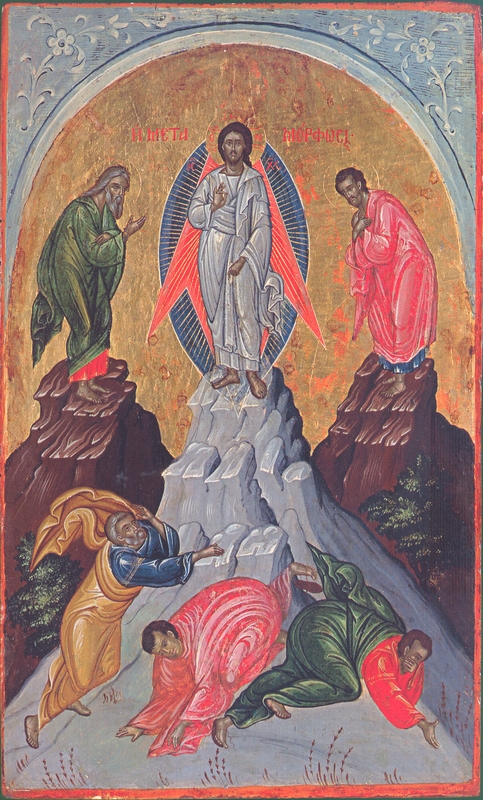 The transfiguration of Christ

Item ID : 287
Collection Name : Holy Metropolis of Ydra, Spetses and Egina
Type : Icon
Year : First half of the 18c. AD.
Place : Idra
Τechnique : Egg tempera on wood
Dimension : 54 x 33,5 εκ
Current Place : Saint Athanasios church, Gourmadas
Description : Right on the top of the conical Mount Tabor, wearing shinning white garments, surrounded by an oval nimbus, within an elliptic mandorla with rays, Christ is shown. Christ is shown blessing with his right hand, while with his left he holds a rolled scroll. An incise nimbus with red majuscules the inscription: Ο ΩΝ (The One Who Is), is written.
On the two sides of the rock, the two Prophets, Elijah on the left and Moses on the right, – with the tablets of the Low - in his hands, are shown standing framing the central figure of Christ who occupies the central axis of the icon. They are presented slightly bowing in a venerable posture.
The three Apostles, Peter, John, and James, are shown in vigorous poses, falling on the ground with fear, stuck with wonder before the divine manifestation.
The scene is placed under an arched frame with floral decoration on either side.