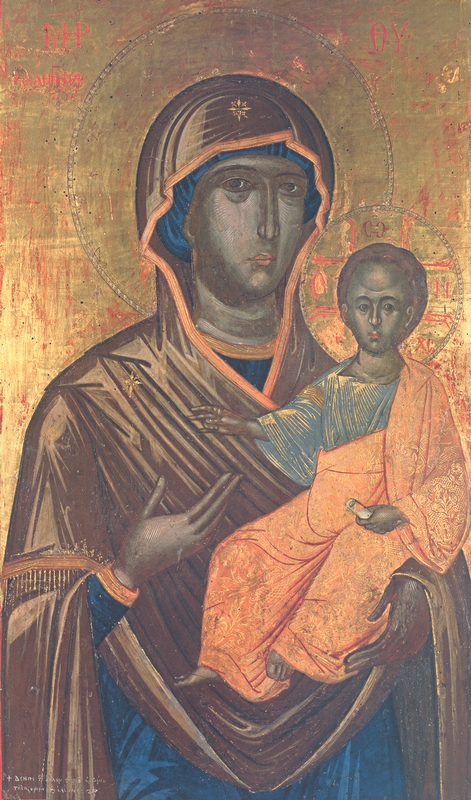 Virgin Mary "Hodegetria"

Item ID : 285
Collection Name : Holy Metropolis of Ydra, Spetses and Egina
Type : Icon
Year : 18c AD
Place : Idra
Τechnique : Egg tempera on wood
Dimension : 95 x 55 εκ
Current Place : Saint Athanasios church, Gourmadas
Description : Against a gold background, Virgin Mary is depicted in the "Hodegetria" (The One that Leads), type.
She is represented from the waist-up, having her body slightly turned to the right, turning her gaze to the viewer. With her left hand, she is holding the Christ Child in a motherly embrace, while her right hand she is presenting Him.
She is wearing a dark maphorion with wide striation, and ochre like color around the edges. The features of the Virgin's face are traditionally depicted. Her eyes are melancholic and a tightly close mouth.
Christ child is depicted as a young beardless with short dark hair, looking at the viewer with a slight gaze.
His right hand is extended in a blessing attitude while with his left he is holding a rolled scroll. He wears a bluish tunic with gold striations and a richly embroidered cloak with golden floral ornamentation and motifs.
Both halos are incised and dotted. In the lower left corner on two verses the inscription: "Deisis (Entreaty) of the servant of God Anthony / Lazarinis of end Helen.