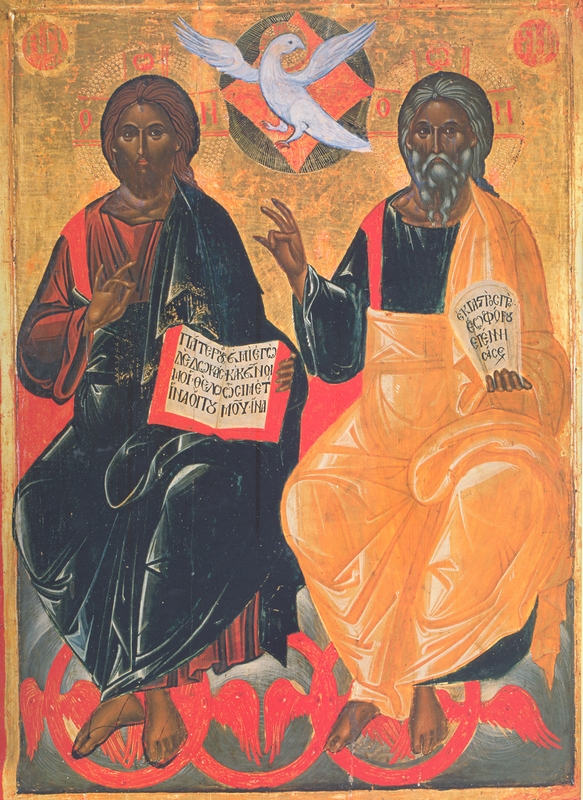 The Holy Trinity

Item ID : 283
Collection Name : Holy Metropolis of Ydra, Spetses and Egina
Year : 17AD-beg. of 18c. AD.
Place : Idra
Τechnique : Egg tempera on wood
Dimension : 91 x 67,6 εκ.
Current Place : Saint Athanasios church, Gourmadas
Description : The icon unfolds against a golden background and it is developed on a vertical axis. The theme follows the traditional representation of the Holy Trinity. Christ is sitting on the right as the Ancient of Days and on the right The Father God is sitting next to him. They are both watching the viewer directly and on strictly frontal position.
They are shown seating in dense clouds. Their legs rest on three red wheels. Their left hands are extended in a blessing position. Christ is holding a Gospel book on his right thigh, and The God Father holds an open scroll with his left.
They are both wearing tunics with a red spot on the right shoulder and a robe tucked symmetrically around the body.
Around their heads are wearing dotted halos inscribed with a red cross containing in majuscules the words: "O ΩΝ" (The One Who Is).
In the golden plain, in the middle flies among them the Holy Spirit in the form of white a dove displayed inside a white glory with golden rays externally. Higher in the both upper corners in two circular motives with capitals the inscription: "HOLY TRINITY," (AGIA TRIADA) exists.