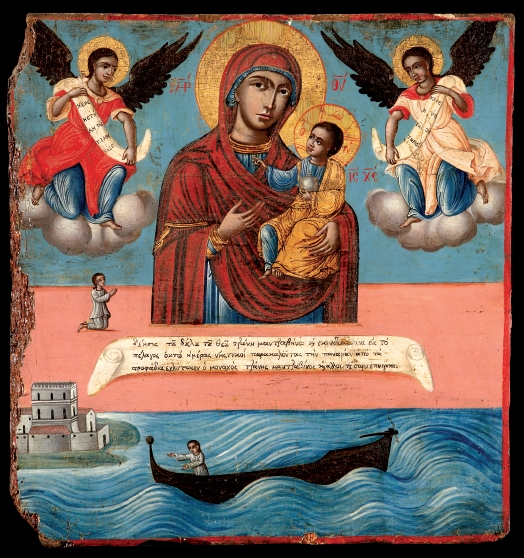 Virgin Hodegetria and the miracle of Strofades

Item ID : 28
Collection Name : Holy Metropolis of Zakinthos and Strofadon
Year : 18th century
Τechnique : egg tempera
Materials : wood
Dimension : 38.5 x 35.5 x 2.4
Description : This is icon has two registers. The top part depicts the Virgin at the centre, waist length facing the viewer. She is holding the Divine Child with her right arm while with her left gestures to him as the way to salvation. The iconographic type belongs to the Hodegetria type. She is wearing a dark red maphorion adorned with gold border and a vivid bleu chiton with white striations. Christ Child is wearing a golden himation and a vivid cyan chiton (tunic). With his left hand he is holding a silver globe (globe cruciger) while blessing with his right. The colors of the panel are particularly vivid.
Two smaller scale angels kneeling on either side of the Virgin and holding open scrolls constitute a graceful iconographic feature. On the left side a small figure of the donor is depicted honoring the Virgin.
The second tier of the composition shows the description of the miracle pursuit by Virgin. The icon created as a votive offering- a gratitude- for the miracle rescue of the donor that is displayed on the lower register.
His agitated figure emphasizes the need for a divine intervention.
The commissioned icon is combination of the traditional stylistic style alongside with elaborated and contemporary western preoccupations.