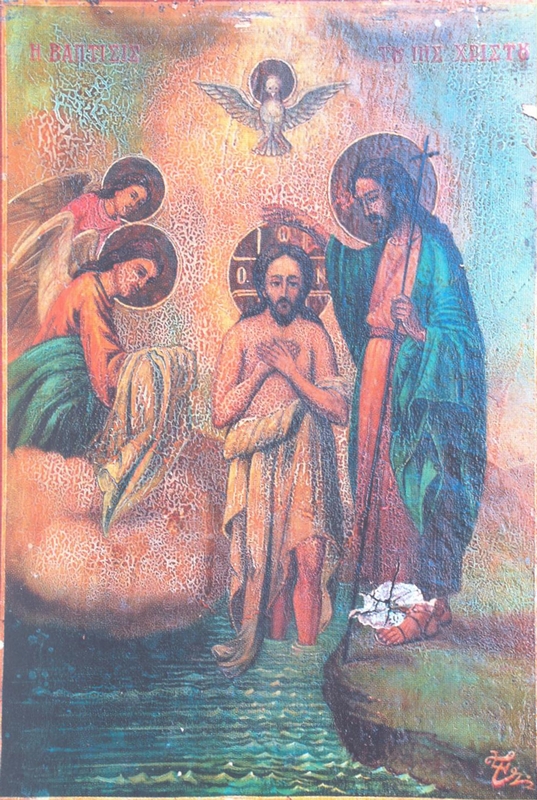 THE BAPTISM OF CHRIST

Item ID : 277
Collection Name : Holy Metropolis of Servion and Kozani
Type : Architrave icon
Year : c.20th AD
Place : Kozani
Τechnique : Egg tempera on wood
Description : This newest project in the lower right corner has a stroke of the pen which probably belongs to the painter. Within a dreamy atmosphere, Christ occupies the axis of the composition, standing frontally in the water of the Jordan, painted in naturalistic turquoise waters and small undulating surface.
He wears an off-white tunic and has his arms crossed on his bare chest . Behind his head is depicted a crossed halo with the inscription: Ο ΩΝ (THE INE WHO IS). The Holy Spirit in the form of as a dove with a halo depicted in a pink cloud over his head.
On the left, uppers side of the the steep bank, the Baptist, with rich garments and holding crossed rod , raise his right hand above the head of Jesus
On the opposite side of the bank, the two angels with white wings and pink clothes,and inclining towards Jesus, depicted half-length,and, located in a cloud offering in Jesus a white loin.
Close to both ends of the upper frame of the icon with large print signs and with red letters the inscription: " Η ΒΑΠΤΙ-ΣΕΣ – ΤΟΥ ΙΗΣ(ου) ΧΡΙΣΤΟΥ," - THE BAPTISM OF JESUS CHRIST.
The frame is a broad red band which internally bounded by golden loose fit . Pictorially the icon follow in general the standards of the Byzantine period composition which have crept into recent data. Stylistically the icon follows the traditional way of iconography on the the Nazarene school .