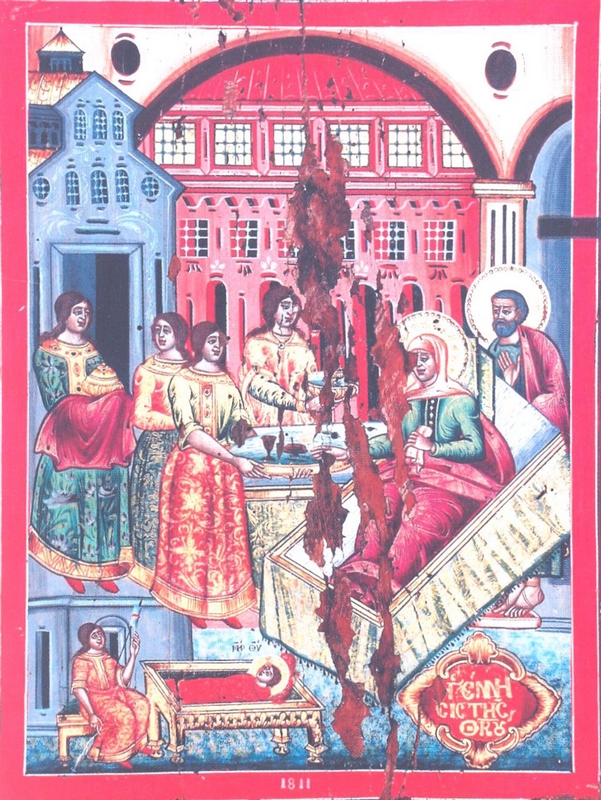 THE NATIVITY OF MARY

Item ID : 270
Collection Name : Holy Metropolis of Servion and Kozani
Type : Architrave icon
Year : c.1811 AD
Place : Kozani
Τechnique : Egg tempera on wood
Description : The composition is dominated by architectural depth that attaches inside the house of the parents of Mary, Joachim and Anna in front of the assigned scene with a totally unconventional way. On the right Saint Anna is depicted almost in a recumbent position on rectangle bed receiving into tray, a jar and glass, which offers the young woman, followed by three others, holding gold utensils. Behind the bed Joachim, with gray hair and beard, getting up on his toes on a small pedestal as if he is lifting it so as Saint Anna see her daughter.
Virgin Mary is located on the left side in gold rectangular sleeping cot and covered by red cover, on which the abbreviation
On it there is the abbreviation MHP - ΘΥ (MOTHER OF GOD), is written indicating Her future status as the mother of God.
The halo surrounding the heads of Joachim and Anna , apart from white outline , they are adorned with a jewelry inlaid circlet, similar to what we saw in despotic images. The forms and objects of the composition appear to float.
The framework has two unequal films, one of which is dark brown on exterior and the interior one is defined by two white lines in vivid red color. Stylistically the character of the work is the same as "Pentecost",icon mainly in the forms of float and relative the depth of the subject, showing that the iconographer of both icons is the same. Indeed the performance of architectural depth is widely used in the Western standards.