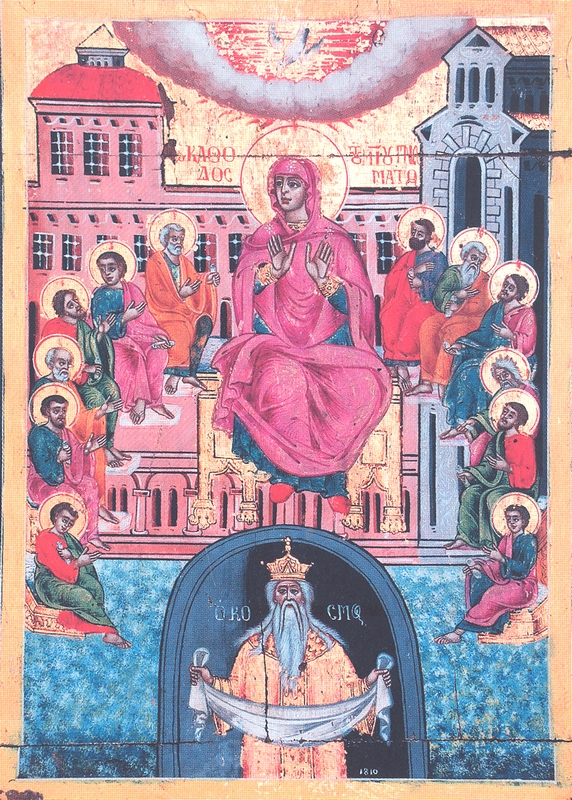 THE PENTECOST

Item ID : 269
Collection Name : Holy Metropolis of Servion and Kozani
Type : Architrave icon
Year : c.1810 AD
Place : Kozani
Τechnique : Egg tempera on wood
Description : In the scene of Pentecost dominated by the figure of the Virgin, which is seated on a throne with no backrest and handrails,having her hand in supplication before here breast , painted in a way so as she seems to hover in space.
She depicted flanked by the twelve apostles, who attributed in a much smaller scale and are seated in two groups of six in a semicircle around her, over low brocaded seats, whose form we understand from the ends of the semicircle.
Above the head of the Virgin the Holy Spirit is depicted in the form of a dove, from which he descends into a semicircle cloudy frame.
Over the heads of the Apostles, within their halos, small red flames indicates the intervention of the Holy Spirit, while their lively movements and closed scrolls that they hold in one hand confirm the intervention.
Beneath the feet of the Virgin depicted half length, an elder with long white hair and beard, standing frontal and dressed with gold chasubles with gold triangular pilots on his head. On his hands holding a white fabric in the traditional way that kept it in late antiquity, and the early Christian period, serving as the personification of the world, according to the inscription accompanying him.
The space in which the event occurs the descent of the Holy Spirit, is not specified if is internal or external, and a territory assigned vivid blue and two high-rise buildings and covering most of the depth of the composition is not associated with her, but only serves as a decoration of the icon. Inscription big letters with red letters: The Defendant / DOC - Holy Spirit / MATOC frames
The head of the Virgin frames the inscription written in red majuscules : Η ΚΑΘΟ/ΔΟC ΤΟΥ ΑΓΙΟΥ
ΠΝΕΥ/ΜΑΤΟC (ΤHE DECENTANT OF THE HOLY SPIRIT).
Stylistically the icon has familiar similarities with the artistic execution of many of the other icons.