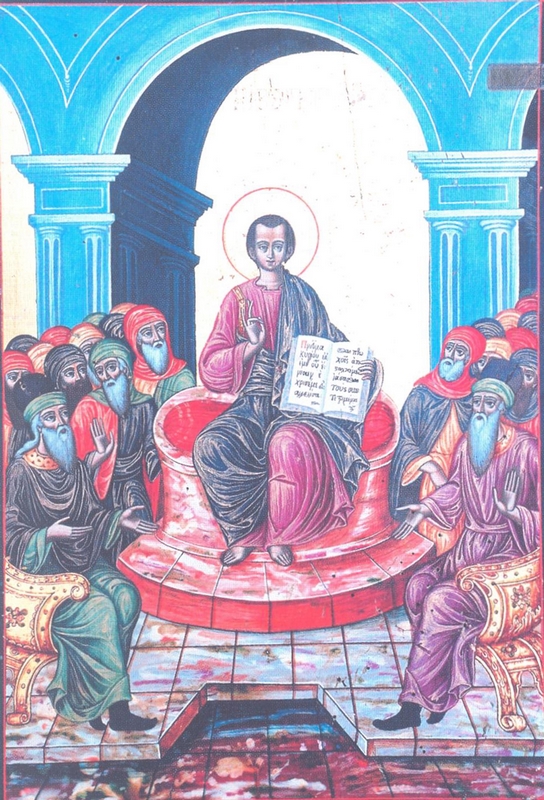 THE MID-PENTECOST

Item ID : 268
Collection Name : Holy Metropolis of Servion and Kozani
Type : Architrave icon
Year : c.1808 AD
Place : Kozani
Τechnique : Egg tempera on wood
Description : The scene depicted inside the church, in an area surrounded arched colonnade. In the center and a circular pedestal seated frontally "the twelve" Jesus on the throne with red semicircular cylindrical pillow without backrest. The throne seems to be built into the podium and made of the same reddish marble. Jesus, beardless and with short hair,he depicted blessing with his right hand while with the left secures large open book in his left thigh.
Two groups of old bearded men surround him, seating in gilded thrones - only the extreme of thrones are depicted - slated to lower pedestal which forms three-sided step ahead.
Most of them have white hair and beard, wearing rich clothes and head covers.
The faces and movements express concern and wonder. Above Jesus head, against golden depth indicated with large inscription in white letters the word: "The MESOPENTIKOSTI," (Η ΜΕΣΟΠΕΝΤΗΚΟΣΤΗ).
The framework has two successive movies, α deep blue in the exterior and black interior with red separating line. The iconographic type of the is distinguished by simplicity, which allows to highlight the figure of Jesus, while both the architectural and the elders wise teachers are presented in a way so as to produce a "framing" layout.