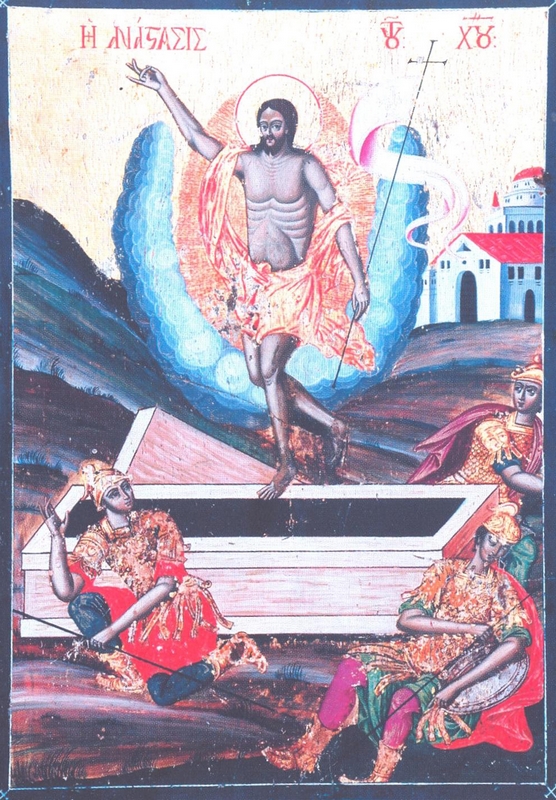 THE RESSURECTION

Item ID : 264
Collection Name : Holy Metropolis of Servion and Kozani
Type : Architrave icon
Year : c.1806-1808 AD
Place : Kozani
Τechnique : Egg tempera on wood
Description : The rendering of the Resurrection is of Western origin who was introduced the Orthodox iconography in the 17th century. Christ occupies the axis of composition,full length and in a standing position overflying the sarcophagus whose lid fallen back barely visible.
He t is surrounded by luminous glory and horseshoe-shaped cloud. He lifts up his right hand, while with his left hand he is holding white crusader banner waving.
Around the tomb - sarcophagus are three young soldiers lying on the ground. He who is in the bottom right corner seems to be sleeping, while the other two on the left bottom corner of the sarcophagus and the upper right monitor the event dazzled.
The landscape is barren,with a schematically rendered building with gabled roof on the right end. Inscribed in red majuscules spitted into two parts: "Η ΑΝΑΣΤΑΣΙΣ," (The RESURRECTION) – "ΤΟΥ ΧΡΙCΤΟΥ"// OF THE CHRIST," are located near the ends of the upper frame. In this context, two films have great affiliation to the other icons of the same atelier.