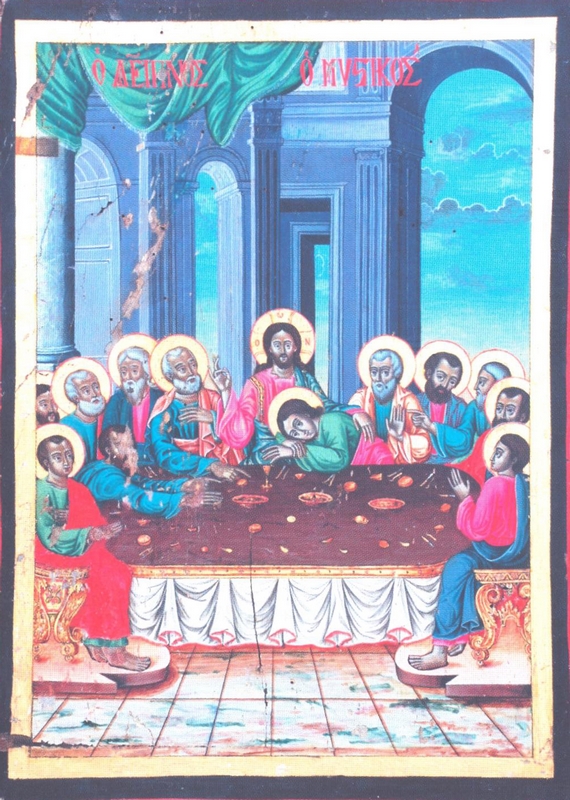 THE LAST SUPPER

Item ID : 263
Collection Name : Holy Metropolis of Servion and Kozani
Type : Architrave icon
Year : c.1800 AD
Place : Kozani
Τechnique : Egg tempera on wood
Description : The composition occupies the lower half of the image while the on the upper side, arches dominates an imposing portico. Centrally located is the figure of Jesus, who is depicted in frontal position, half length blessing with his right hand while with his he left hugging the young disciple John who is represented leaning towards him, embracing Jesus hands.
Judas also stands out because he does not bring a halo, while he stretching out both of his hands to a bowl, which shows the right hand having a symbolic meaning.
The horizontal axis is indicated by the elongated table with wooden surface, upon which scattered utensils and fruits are spread. Around Jesus in groups of six on each side, seated in low seats, as seen from those assigned to the two ends are the twelve Apostles. White pleated fabric covers the sides of the table
The architectural elements that frame the image , e tiled floors and fluted pilasters holding bows or frame openings , through which the sky seems to have a dominant role in the composition. The framework has three films , similar to the Entry into Jerusalem . The composition is limited by the scope of the image , which cut part of the apostles sitting on the ends. Probably the anthibolon from which the icon was copied was of of a bigger size.
Stylistically there are great similarities in the depiction of figures of the Apostles and Christ with other images the rendered " around 1806 .