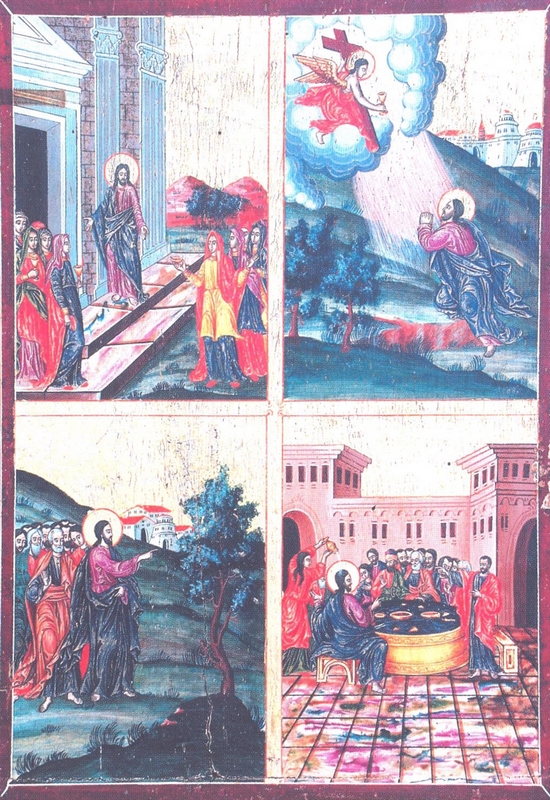 A FOUR - SCENE ICON

Item ID : 262
Collection Name : Holy Metropolis of Servion and Kozani
Type : Architrave icon
Year : c.1808 AD
Place : Kozani
Τechnique : Egg tempera on wood
Description : The particular icon, has the peculiarity of assembling four thematic dispositions regarding the Holy Week. The themes are segregated in equal parts.
On the upper left side of the panel, the well known Parable of the Ten Virgins. In the central axis of the panel, Christ is depicted full length standing near an open gate, with pediment crowning the majestic building.
He has his hands open in a gesture of invitation to the "foolish virgins" who stand at the right side of the composition with movements of despair showing their lamps switched off. On the opposite side,
The group of virgins who keep the lamps lit on the left edge of the composition, on the first of two landings of the building, ready to cross the threshold of the bridal chamber.
The scene on the upper right, is the prayer of Christ in Gethsemane.
Jesus is depicted praying kneeling on a rocky ground with his hands conjunct in a supplication posture.
He depicted raising his head to the sky where through spherical dense, cloud an angel with golden wings and red robe accentuates, offering him a golden class, while bearing the Cross on his shoulders.
The landscape of the Gethsemane Garden is denoted by two dark trees behind the angel scene and near the bottom left corner of the image, respectively, while near the upper right corner the white buildings with red roofs represents Jerusalem.
On the lower left corner of the icon, represents the parable of the Barren Fig Tree, in the central axis of a green landscape with a gold sky, that also serves as a background, Grist is standing, full length on a standing position with his body leaning towards a fig tree and his left hand raised at the tree fig tree. Behind him a group of people are watching with curiosity in a miniaturist style, while Apostle Peter is on the head and his surprise is denoted by the movement of his hands . In the background of the icon, centrally located a schematically rendered town is represented.



On the Fourth scene is, that is on the lower right corner of the panel, Christ is represented sitting around a table and spreading Myrrh on on head of a prostitute. The scene is depicted in an internal paved courtyard building. Seated left of the circular table, several Apostles stands or sits. Behind him, a female figure with loosened hair and wearing crimson dress raises above his head a golden urn from which pours the ointment over his hair.T
The representation of the scenes does not follow a particular chronological order , as this happens to the icon of Saint Athanasios of Litis.
The frame work f the icon bears two bands similar to those of the "Ypapanti" icon. There are no inscription to the icon.