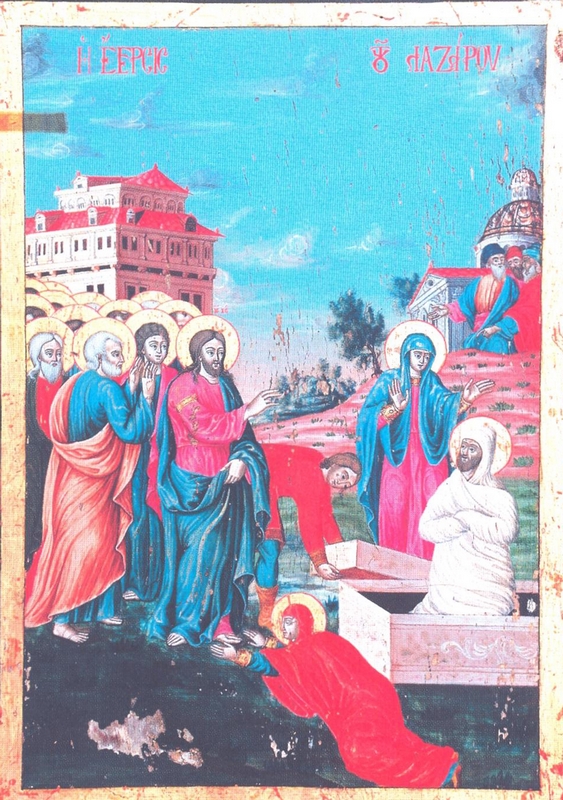 THE RAISE OF LAZARUS

Item ID : 260
Collection Name : Holy Metropolis of Servion and Kozani
Type : Architrave icon
Year : c.1806 AD
Place : Kozani
Τechnique : Egg tempera on wood
Description : The composition is depicted on a rather barren hilltop, under a blue sky which serves also as a background.
The icon is divided vertically into two unequal parts, from which on the axis the figure of Jesus is depicted. The Apostles led the team that reaches from the left panel.
Behind Peter has been rendered to the side with his back facing toward the viewer. On the right side Lazarus is represented wrapped in a white shroud, and sitting into a marble sarcophagus, which a curled young man has just removes the lid.
Behind him is shown standing one of his sisters, depicted acting with gestures of admiration and surprise.
In the first level, the other sister is laying at the feet of Jesus, on a dark green area which serves as the background also. She is represented as a central figure of the composition, punctuated by the crimson red drapery that she wears.
Architectural depth is created form the two schematically rendered buildings that frame the figures of Apostles.
On the left a store square building is depicted and on the right side a building with a dome, probably a temple.
Before him, there are three elderly men who talk, observing the scene. Three frame bands decorate the icon, which stylistically and pornographically are affiliated to the known atelier from Mount Athos.