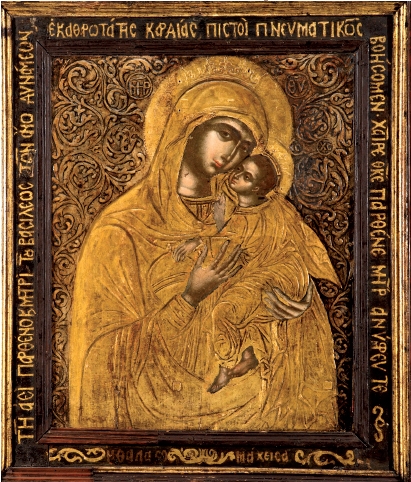 Theotokos Glykofilousa

Item ID : 26
Collection Name : Holy Metropolis of Zakinthos and Strofadon
Τechnique : egg tempera
Materials : Wood
Dimension : 72 x 57 x 2
Description : The icon is painted slightly hollowed so as to form a raised border. This innovative representation of Virgin follows a master composition of the unknown's artist visualization. This particular type of the Virgin, in which the two faces are touching, cheek to cheek, is known as the Glykophilousa. Virgin is centrally depicted in the standard Hodegetria type, holding the Divine Child with both arms. The Virgin turns slightly toward Christ who he Christ gazes tenderly in a harmonious way.
Egg tempera on wood is used to paint the faces and the members of the figures. The drapery such as the maphorion is made of plaster covered with gold.
The icons background is made of wood exhibiting superb craftsmanship. The artistic visualization of the theme communicates with a variety of iconographic styles. A clear Macedonian style- sudden movement of the light from extreme dark to bright effects- is ideally presented. The expression of the Cretan School mannerist style is also obvious in the whole representation of the icon.