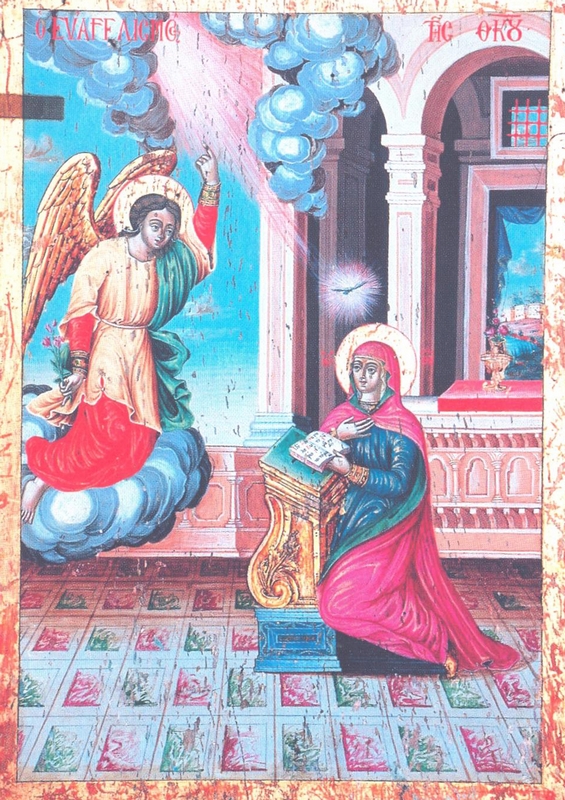 THE ANNUNCIATION TO THE BLESSSED VIRGIN

Item ID : 259
Collection Name : Holy Metropolis of Servion and Kozani
Type : Architrave icon
Year : c.1810 AD
Place : Kozani
Τechnique : Egg tempera on wood
Description : The particular composition of the Annunciation is inspired by western standards. Virgin Mary is depicted kneeling on a paved courtyard in front of a wooden lectern that has the inverted golden painted dolphin. She is depicted holding an open code with her left hand leaning on the lectern, with minuscule writings in it, and poising her right hand in front of her chest.
She is wearing a pink maphorion lined with green cloth with rich folds on her back. Her hands are covered white handkerchiefs. Inside her maphorion she wears blue tunic with maniples with gold bands.
The archangel, is depicted with hi golden wings opened, descending in front of her through a gray-white cloud, holding a pink lily in his right hand and raising his left in the heaven.
He wears a crimson red sleeved tunic with gold maniples, a yellow tunic belted at his waist and a pale green tunic on the left shoulder.
Above him through a long grayish color cloud to descend the pink light of the Holy Spirit in the form of a dove, and stands near the head of the Virgin.
Grand edifice occupies the right side of the image, through the large arches which a table covered with red tablecloth having a gold vase with flowers on it.
From the open door with raised curtains, discern buildings in a riverside or lake. The framework has two bands: the outer is narrow and black, while the interior band has a gold-red color.
Stylistically the composition is very close to the composition of Pentecost.